On May 20, a Taiwanese delegation from the Ministry of Education including the President of Southern Taiwan University of Technology Dr. Frank Hsin-Hsiung CHANG came to APU in the context of international exchange.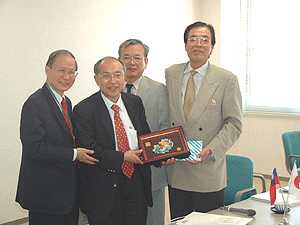 APU Vice President, HAYASHI Kentaro warmly welcomed the guests, introduced various facets about the University, and the head of the delegation, Dr. Change introduced members of his party and spoke a few words on behalf of them. Afterwards, the Taiwanese guests were taken on a tour of the campus, observed some lectures and took part in an informal discussion.
During the discussions, the Dean of Academic Affairs, Mr. YAMAGAMI Susumu answered some of the group's questions on the acceptance of international students and English education, and Associate Professor Cripps from the Language Institute also answered questions regarding English at APU.
After the discussion, there was a lively exchange of questions and answers. Final words were made by the Vice Head, Dr. Peter Tuen-Ho YANG (Head of St. John's and St. Mary's Institute of Technology), and the Head of the Delegation, Dr. Chang, as well as by Dr. YANG, an Academic Affairs Committee member at APU. Afterwards, they gathered for an informal discussion.