On Thursday 9 and Friday 10, April 2009, a training session was held for members of the Student Support Station (SAS). The SAS is a student organisation which aims to support APU students in their extracurricular activities.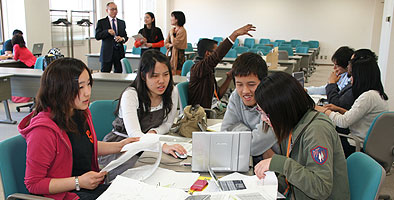 On the 10th they split into four groups and came up with plans for local student exchange under the theme of "Teach for Beppu" under the guidance of Dean of Asia Pacific Management, Professor YOKOYAMA Kenji. "Teach for Beppu" involves teaching English at primary schools as part of local community exchange.

The have been planning all sorts of games, events and Christmas parties for the primary school students to make communicating in English and other languages fun for them. They are finalizing their plans, such as the dispatch of APU students as teachers, in accordance with their academic year plans.

They hope to put into practice the "Teach for Beppu" program in Beppu City primary schools after further discussions looking at the good points of each grou's ideas.




Members of 2nd group of SAS members at the training session spoke of their aspirations for further activities, "I want to expand the SAS sphere of regional exchange from Beppu and Oita to Fukuoka and the entire nation and promote international and intercultural exchange", "I want to deepen exchange between the international and domestic students through these activities and generate all kinds of information", "In addition to exchange with Japanese children, I want to try activities through which primary school students of foreign nationality living in Beppu can get accustomed to their school."

The Student Activity Station (SAS) was established in June 2008 and began work this semester with 17 new student members. Situated in on the 1st floor of building A in the Student Activities Office, they provide information for students and support their extracurricular activities.

Through local community exchange, the SAS is actively trying to strengthen the following three student skills: Leadership skills (the ability to be proactive and show initiative), Management skills (working together for the group) and Communicative skills (the ability to make links with local communities).