教育プログラム|学生生活
Apr 17, 2009

On Friday, April 10, 2009, the "Pre-entry Education Program Commendation Ceremony" took place on the 5th Floor of Building A for early accepted students who had completed pre-entry education programs.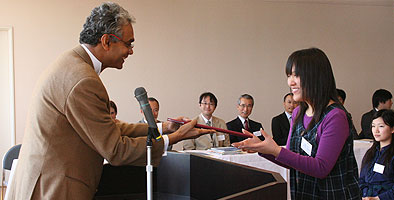 Awards were presented to 14 students. eight of them were awarded for their excellent completion of the APU notebook "Window to the World"*. The other 6 students were awarded for their completion of the exchange program preparation program and had been confirmed to participate in an APU exchange program.

APU held a number of pre-entry educational programs such as the APU notebook "Window to the World" and the exchange preparation program for new APU students.

The APU notebook "Window to the World" was distributed to new students and requires them to do research on the 87 different countries and regions APU students come from. This is designed to raise their international awareness.

The Exchange preparation program was for students who have a high level of English ability and who want to join an APU exchange program. As part of this program, the students had to read 10 English/Japanese topical books and submit 3 essays which were then looked at by an expert.

APS Professor and Deputy Dean of Academic Affairs, KONDO Yuichi gave a few words of encouragement to the awardees, "We appreciate your efforts and we will do our best to support you. You are the first awardees of this program so please take pride in this. This is not the end, but only the start of your university life. I hope you can continue your hard work."

Following this, APU President, Monte CASSIM said, "It is very important to have the intellectual curiosity and not to be afraid to challenge anything. I hope you can prepare for your future with pride as students who can open the way to the future."
Reporter, Student Press Assistant (SPA): PARK Songyi (APM3, Korea)