On Saturday, April 11, 2009, the "2009 PicaPica Welcome Festival" was held by the APU University Festival Committee "Base Event".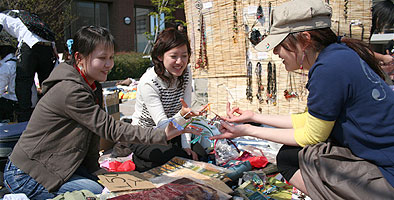 Many current and new students gathered on the APU campus under a beautiful sky and enjoyed a flea-market and stage performances.

This welcome festival was held aiming get new and current students interacting. The current students provided the new students with information to support them adjust to their new student life and let them know about the extracurricular activities on offer.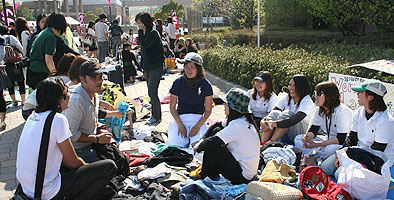 The stage performances by student groups around the fountain were a new addition to the festival this year which added to the flea market run by current students. There was a lot to do including events which students could participate in such as a model United Nations meeting, a welcome match by the Men's Lacrosse club and a tea ceremony by the APU Tea Ceremony Club.

Base Event representative MISUGI Yuya (APM3, Japan) said, "We held this event in the hope that the new students could get acquainted with the university as soon as possible and so that they can make a new contribution to APU. For the current students it was a chance to refresh ourselves as we face the new semester. I hope the new students will, in their new university life, treasure the new friends they will make through circle activities and events and each work towards their goals and dreams. I hope that this event is the start of this process."
Reporter, Student Press Assistant (SPA): Sasano Sakura (APS3, Japan)