The Global Business Challenge (GBC), an undergraduate international case competition, was hosted by the University of Washington Business School in Washington State, USA during the week of April 4-10, 2005.
This year, students from 16 Universities from 13 different countries from around the world, including the host country USA, gathered for the competition. It was Ritsumeikan Asia Pacific University's first time to participate. The teams consisted of four student members and a faculty advisor, and Professor IGUSA Kunio, Dean of the College of Asia Pacific Management and four of his seminar students, HARTANTO Harry, KIMURA Azusa, SONODA Wakako and HANAYAMA Kouta represented APU. Overall 16 teams took part in the competition.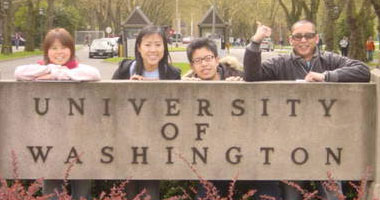 At the GBC, the students hoped to take advantage of their prior knowledge, to develop analytical skills that have practical applications in real-life business and to foster active exchange with students from other universities. The large number of European students in attendance meant that the four students had an ideal opportunity to engage in multicultural exchange.
Competition Background
The GBC was a substantial program, which included visits to major global organizations such as Microsoft Corporation and Boeing in the State of Washington, and the delegates had various opportunities to speak with top business people. As its main event, participants were required to analyze a multi-disciplinary, globally focused business case and present its recommendations to a panel of judges from the business community. The teams were given a short 48 hours to prepare and they had to draw on their previous studies and knowledge. The theme was on "Finance". From the perspective of a consulting firm, the students had to consider where Weyerhaeuser, an international forest products company, should invest in the future.
Comments from Student Participants
SONODA Wakako said, "The APU team included international students so we held our discussions in both English and Japanese. It took some time to communicate in both languages, but I felt working through the language differences was indicative of APU." Each team presented for about 15 to 20 minutes and various company heads evaluated their performance.
Ms. Sonoda said the APU team practiced their phrasing and articulation of words many times. She added, "At first I felt the pressure from the language barrier and having to draw on technical financial knowledge at a global competition, but talking with other students from all around the world helped to relieve some of the tension, and I feel that we were able to give it our best shot." She continued, "After the presentation, the judges gave us some constructive advice and showed us areas that could be improved. We only had 48 hours for preparation, and I have no regrets whatsoever."
Future Outlook
Since the convention, Ms.Sonoda has pursued further studies in the specialized field of finance. She appears to get a real joy from learning, and is sharing her experiences with first-year students in the circle, "Academic Camp" at APU. While away from campus, she observed that, "APU students seem to have a natural ability to welcome students from overseas and different views on religion and war are openly accepted and considered a part of one's individuality." "This generosity is a unique feature of APU," she said. "I hope many people from around the world can come to know the charms of APU."
The students certainly had a wonderful experience at the GBC conference both in terms of learning and exchanging with fellow participants.