教育プログラム|学生生活
Apr 28, 2009
On Saturday, April 5, 2009, forty one AP House residents including international students from 11 countries and regions, visited the Kyushu Electric Power Co. geothermal power plant in Kokonoe Town, Oita Prefecture.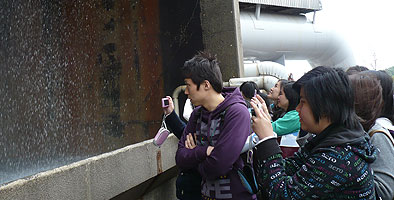 Such field trips consist of students going on excursions in Oita or surrounding prefectures to plants, factories, facilities and tourist spots. Through these excursions the fieldtrips aim to deepen the students understanding of Japanese (Oita) industry and commerce. Furthermore, by providing off-campus opportunities for students to meet and get to know the locals, it also aims to make the students aware of connections with the region.

On the day, the group visited the Kyushu Electric Power Co. Hachobaru Power Station, one of the largest scale geothermal power plants in Kyushu. They then visited the Kokonoe "Dream" Suspension Bridge-the largest pedestrian suspension bridge in Japan. From the bridge the students were able to take in the grand scenery of the Shindo Falls –one of the 100 most beautiful waterfalls in Japan –and the Naruko River Ravine. Located inside the suspension bridge area is the Kokonoe Tourist Information Office which opened in April. Recent spring APU graduate SEM Joseph Robert (March Grad'08, APS, America) is currently employed there.

At the end of the excursion, the group visited the Takatukasan Shrine.
This fieldtrip is held in every year for AP House residents during the spring semester and is an initiative which began in AY2007. Three excursions, including this trip to Kokonoe, are planned for AY2009.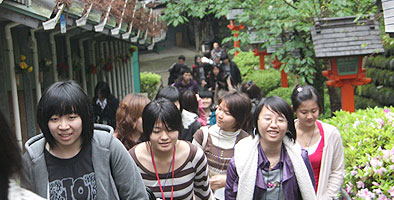 One of the students who participated in the field trip to Kokonoe Town spoke of their impressions, "I got to know a lot of international students through this fieldtrip. This was a very valuable experience to rediscover the beauty of Japanese culture such as the grandure of the nature we saw from the Kokonoe "Dream" Suspension Bridge and the bus, and the level of technology of the Hachobaru Power Station."