On Sunday, April 19, 2009, twenty members of the APU Registered Student Group, Ones'1 Fair Trade, participated in and held a fashion show centering on Fair-Trade goods at "Earth Day Oita", an environment event held in Beppu Park.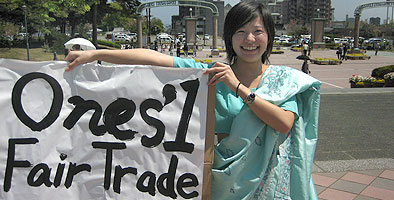 Fair-Trade aims for the alleviation of world poverty and the promotion of sustainable social development. It is a movement which aims for the improvement and independence of workers' lives in developing countries through the purchasing of goods and resources of developing countries at appropriate prices by consumers in the developed world.

This is the second time Ones'1 Fair Trade has participated in "Earth Day Oita" and are working towards the popularization of Fair-Trade and regional exchange. During the fashion show they introduced goods which take into account the environment and poverty such as Indian Sari and dresses, and Fair-Trade goods and shirts made from organically produced cotton.

FUKUMOTO Masashi (APS3, Japan), who participated in the fashion show, spoke as representative of the student circle, "Through participating in this fashion show I was able to meet and exchange with other Fair-Trade groups and people from business which deal in Fair-Trade goods. I am glad that this fashion show proved to be an opportunity to think about environmental issues and poverty."

One'1 Fair Trade was established in 2002 and currently has 23 members. They are involved in a range of events aiming towards the popularization of Fair-Trade such as study groups, mock-lectures, fashion shows and the publishing of their newspaper.