In April 2010, APU will be marking its 10th anniversary and the 12 months between September, 2009, and September 2010 have been set aside to celebrate this occasion. A range of commemorative events will be held as a way of expressing our thanks for the last 10 years. APU hopes to reaffirm just how much it can contribute to international society as a new model example of an internationalized higher educational institution.



Initiatives to mark the 10th anniversary of APU's inception are being posted on the official APU homepage. Recently we introduced the "APU Story - The Birth of Japan's "Global Cooperative" University" and now we would like to introduce our second initiative: a lecture for April new-entrants delivered by inaugural APU President SAKAMOTO Kazuichi. Inaugural APU President SAKAMOTO played an important role in the initial stages of APU's inception

On Monday, May 18, 2009, Inaugural APU President SAKAMOTO Kazuichi delivered a lecture under the theme of "How Ritsumeikan Asia Pacific University (APU) was created". This was held as a special lecture held as part of the "Introduction to APU" course run by Associate Professor SHIN Kimie and Assistant Professor TATEYAMA Hirokuni for new entrants.

Nine years have now passed since the establishment of APU and this was held as an opportunity for the new entrants to reestablish their understanding of the circumstances and philosophy behind the opening of APU.

During the lecture, Professor SAKAMOTO spoke of the founding philosophy, "There were 2 great missions when we established APU. When the concept of APU was first conceived, we felt that the next age would be the age of the Asia Pacific, not Europe or America, and that this age was approaching. On the other hand, we felt that in these days of the approaching wave of internationalism, Japanese universities were nowhere to be seen in terms of international competitiveness. Therefore, we considered it our mission to bring together excellent students from around the world and train the promising human resources of the Asia Pacific age, and be a driving force in the internationalization of Japanese universities.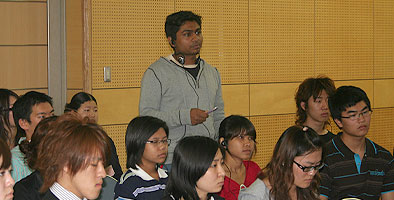 Furthermore, he spoke of and advocated to the new students the initiatives proposed for the development of a dual English/Japanese education system and to make half of all faculty members foreign nationals, "Concepts are important when getting involved in new initiatives –not only when building a new university. If your concept is sure, then you will be able to see what you have to do."

Students who attended the lecture asked questions such as, "I'm sure there was a range of issues in getting the university opened but, what have your depended on?" and "What do you seek form the current APU students as one of the founding fathers of APU?" Professor SAKAMOTO replied, "The Honorary Chairman of Nippon Keidanren Mr. HIRAIWA Gaishi said that 'The concept of APU is something that the government should be doing for its international contribution but if this is to be carried out by Ritsumeikan and Oita Prefecture, then the financial world should support it'. In this way, APU was able to open thanks to a wide range of support. Our hearts were supported by our promise to society, the responsibility to answer their expectations and the belief that we could create something great.
People in the outside world expect an international communication ability of APU students. This means that you are a human resource which can work together without hesitation with anyone you meet in the world. Please make use of the APU multicultural environment and make a lot of friends."

This proved to be an opportunity for the 30 international and domestic students to know and make use of in their future student lives, the details and passion of the faculty members leading up to the opening of the university.

"Introduction to APU" is a class held for new-entrant students which aims to nurture the skills needed in APU student life such as interpersonal relationships, time management, ways of having discussions in both English and Japanese and utilizing the multicultural environment to suit ones goals.

Please click here for the article of "APU 10th Anniversary Project –The Story of the Birth of APU".