On Wednesday, May 6, 2009, APU Karate Organization Captain DONG Minh Tuan (APM3, Vietnam) won the Men's Kumite Division in great form at the 31st Oita Prefecture Goju Festival held in Kitsuki City.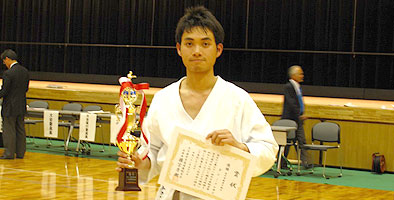 Learners of Goju karate of all ages and skill levels come to the Oita Prefecture Goju Festival test their skills in the Kata and Kumite divisions. This year there were approximately 300 participants.

The APU Karate Organization which participates nearly every year in the Goju Festival, aims not only to win, but also exchange with the local primary/intermediate school students and different training hall masters, and contribute to the development of Goju karate in Oita Prefecture. Last year OTANI Yushi (APS4, Japan) won the same Men's Kumite Division and KU Shousei placed 2nd to leave

Looking back on the event, Mr. DONG said, "I am very happy that I was able to win. Furthermore, I am also very happy that I was able to participate in this contest, practice Kumite karate with local masters, exchange with students of other training halls and get to know local people through Karate. I hope that at next year's contest I can again leave some great results while deepening my exchanges with the local people."

The APU Karate Organization was established in 2000 –the same year as APU opened –and currently has 23 members including 8 domestic and 15 international student members who train under the guidance of Mark POSSELIUS Sensei.