On Thursday, June 4, 2009, the opening ceremony was held for the "Super Exchange Course (SRC)". The Super Exchange Course is an English study support program for 2009 domestic spring entrants.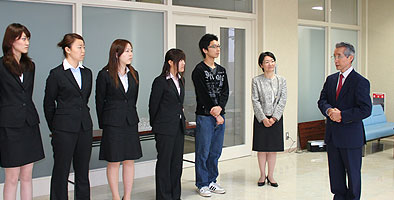 The Super Exchange Course (SRC) is an extracurricular program which provides continuous study support over one year for new spring entrants who "like English but don't know how to study it" or "want to go on an exchange, but are unsure of their English ability" etc. Opened in 2007, the course is now in its 3rd year. This year 18 new SRC students began the course after a paper and interview selection process.

In addition to 10 new SRC students, Education Development Study Support Center Professor WATANABE Ikunosuke, Associate Professor SHIN Kimie, program staff, students who completed the first SRC program and have since taken part in an exchange program, and students who completed the second SRC program also attended the opening ceremony.

Professor WATANABE gave a word of encouragement to the new SRC students at the beginning of 09SRC, "I hope to see the results of your study not only in the form of an improvement in your language skills and the building up and maintaining of your motivation as you look towards your overseas exchange. Please get lots of information on the course from your seniors and make use of it during your studies."

Students who have completed the SRC course spoke of their impressions, "Before entering APU I had not placed much importance on English but I then entered the SRC after becoming painfully aware of the importance of English through lectures and communication with international students. I have since returned from my overseas exchange in Montreal but I hope to make good use of this experience."
"By participating in the SRC Course and learning together and sharing information with friends with the same aims, I have been able to find goals for what I want to learn, other than just improving my English for my overseas exchange."

The new course students all spoke of their goal to improve their English ability and other aims and ambitions, "I want to improve my TOEFL score so that I can communicate better with international students and hope to go on an overseas exchange in the future".
"I want to work hard in the SRC Course and study information technology at a technical university overseas".
"I want to work hard to always be aware of my goals and do better than the other students."

The new SRC students aim to get a TOEFL score of over 550, and through participating in small study groups and summer English immersion programs they hope to instill the skills of sustained independent study. It is hoped that they will be able to maintain a high level of motivation towards participating in an overseas exchange from their second year onward though the regular counseling and detailed study guidance they will receive from program staff.