On Monday, June 22, 2009, the 2nd Multicultural Week for AY2009, "Chinese Week", got underway.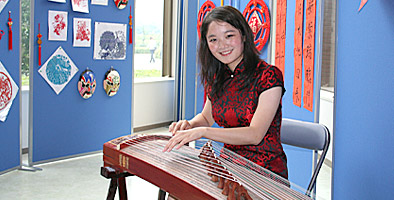 Every year at APU where students from 87 countries and regions come together, we hold Multicultural Weeks to introduce and throw the spotlight on the culture and languages of these countries and regions. During the week there will be plenty of Chinese gourmet cooking available at the Cafeteria, a space to try traditional Chinese Calligraphy and free Chinese tea tasting.

Also, on Tuesday 23, the Japan-China Exchange KARAOKE Competition will be held for the 3rd time hosted by student circle TENKA. And on Friday 26 there will be traditional music and dancing performances at the Grand Show to be held at the Millennium Hall.

APU currently has 655 students who speak Chinese as their mother tongue (as of May 1, 2009). Furthermore, in addition to providing the Language Center and engaging in the teaching of Chinese as one of the languages of the Asia Pacific region, the on-campus Confucius Institute also actively provides students and people of the community with the opportunity to study the Chinese language and culture.

Schedule for Chinese Week:
Monday, June 22– Friday 26,
Chinese food @Cafeteria
12:10-14:00 Chinese Tea tasting @Cafeteria Booth
14:15-15:50 Chinese Calligraphy @Cafeteria Booth
Tuesday 23 , 18:30-20:30
KARAOKE Competition(hosted by TENKA)@Millennium Hall
Friday 26, 18:30-20:30
Grand Show @ Millennium Hall

*Multicultural Week is sponsored by the Nakajima Foundation.