教育プログラム|学生生活
Jun 22, 2009
On Wednesday, June 17, 2009, a Group Support Session aiming to improve student motivation was held for students involved in the Language Learning Community (LLC) APU educational program.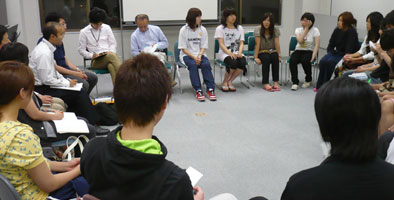 Professor in charge of the LLC program, APS Professor KONDO Yuichi gave a few words of encouragement to the first batch of LLC students (18 international and 18 domestic), "If you visualize your personal growth a year from now and work hard, the rest will come naturally. With this in mind, please don't just be a receiver, please have a strong desire to study and actively ask questions to the TAs* and faculty staff". The participating TAs and faculty staff spoke together with the first batch of LLC members about how to resolve their uncertainties.

Through this group support meeting in which senior TAs and RAs** also participated, the inaugural LLC members reaffirmed their resolution to work towards their goals.

The Language Learning Community (LLC) is a new educational support program in AP House and was established to nurture APU international citizens with high levels of language ability.
This new program aims to improve the English ability of domestic students and the Japanese ability of international students and form study habits. It provides a special program whereby the study time is set and LLC support staff and senior students provide study guidance and advice to the students in line with their study goals.

*TA (Teaching Assistant). Student Staff members who provide assistance to faculty staff running curriculum subjects and workshops etc
**RA (Resident Assistant). Student Staff members involved in the general running of dormitory life.