On June 5, 2009, APS Professor Peter MANTELLO gave a lecture entitled "Pleasure, Ideology and Algorithm: The Rise of the Military Entertainment Complex" at the June 3-5 Deutsche Welle Global Media Forum held in Bonn, Germany under the theme of "Conflict Prevention in the Multimedia Age". The Forum was attended by approximately 1200 people from over 100 countries.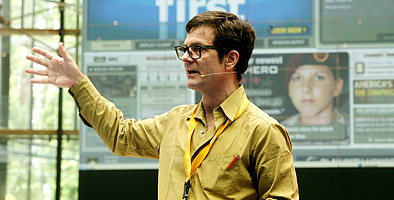 In front of an audience of 200 international media experts, Professor MANTELLO presented his talk, focusing on the themes of identity through computer game narratives. During his presentation he talked about the development and social influences of simulated first person shooter video games such as "FallOut 3", `Full Spectrum Warrior' and importantly, "America's Army", a US government funded tactical first-person shooter video game which has proven to be one of the US army's most cost effective recruitment tools.

Based on real battles, America's Army is a freely available game attempts to create an authentic environment in which players can experience using military hardware on simulated missions. The US army has since set up mobile exhibition halls at fair grounds and malls etc in which players can try the game, and volunteer for missions in actual tactical simulation helicopters and humvee vehicles, then meet real life combat veterans and heroes, and then be lead through the recruitment process.

Looking back on the Forum Professor MANTELLO said "It was a fascinating event with many great speakers such as keynote speaker Howard Rheingold a media visionary from MIT. It was a great opportunity to learn about conflict prevention with media as a peace-building process".

Professor MANTELLO will be giving a presentation along with clips from the latest videogames entitled "Videogames and Ideology" next month as part of the RCAPS seminar series.