教育プログラム|学生生活
Jun 29, 2009
On Wednesday, June 17, 2009, a Presentation Meeting was held for students who participated in the "FIRST" overseas study introduction program for 1st year students. The students presented the results of their study in Taiwan.
The FIRST Program makes use of the June and November quarter breaks by setting out overseas to further promote cross-cultural awareness through direct contact with Asian culture and society, and aims to help students find a sense of direction in their future studies at APU. This spring semester twelve first year students took part in a trip to Taiwan.



At the Presentation Meeting, the participating 1st year students broke up into three groups and presented their field study experiences. The groups presented their hypothesis made before departure, and the results of their individual investigation findings. Of note were students who expressed how they were struck by the difficulty in communicating with the locals and the information gap between information they gained through books and the internet and the real life situation. The venue was abuzz with keen students with an interest in studying overseas.

HORIGUCHI Shintato (APS1, Japan) who participated in this FIRST Program, spoke of his ambitions for the future, "Since participating on the FIRST Program, my outlook on things has definitely broadened. Through exchange with the local people I realized that my initial image was completely different to the real situation. I want to continue to make use of the multicultural environment of APU and actively participate in a range of activities."

Faculty member in charge of the FIRST program, APS Professor KONDO Yuichi gave a few words of encouragement to the students, "I hope that through participating in the FIRST Program you have been able to think about why you entered APU and that through this real life experience you got a hint into what you would like to do while you are here. It is important to take a great step forward in your university life and I hope that you will actively participate in future APU programs."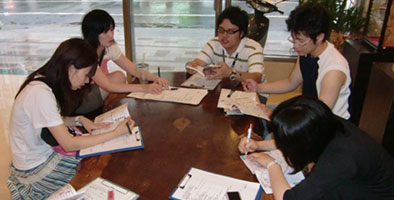 APU which places "Knowledge", "Experience" and "Exchange" as the essential elements of learning, is developing the "Active Learning Program" which places an importance on practical learning and experience both domestically and overseas. Let's hope that they will make use of their experiences of the FIRST program as a foundation to make the step-up to even greater overseas programs such as long term exchange trips and field studies.
The next FIRST Program is planned for Korea in the Fall semester. A photo exhibition is also planned to be held in building F in the near future.
Reporter, Student Press Assistant (SPA): MAEHARA Hironobu (APM3, Japan)