On Tuesday, June 23, 2009, the TENKA Sino-Japan Karaoke Contest was held at the APU Millennium Hall as part of Chinese Week held from Monday, June 22 until Friday, June 26.





Eighteen students from five countries including China, Japan and Norway participated in the Karaoke Contest and performed their favorite songs. Chinese students sang Japanese songs, and other nationalities sang Chinese songs in the hope that this would lead to Sino-Japan cultural understanding. The audience appeared fascinated by the voices of the participants and the Karaoke Contest proved to be a great success. Singing at the end of the program KONISHI Masakazu (APS3, Japan) put in a fine performance as he sang "Ai de jiu shi" to claim 1st prize in front of panel of 6 judges which included APU Japanese teachers.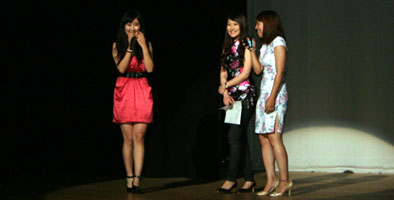 Over the one week which Chinese Week ran, there was Chinese food available and calligraphy and Chinese tea tasting at the Cafeteria. On the 26th, the final day of the program, we were treated to the Grand Performance at the APU Millennium Hall with song and dance and a Chinese dragon-lion performance. Such unique events are being planned and run by various student bodies as well as the university.
Reporter, Student Press Assistant (SPA): KOMORI Midori (APS2, Japan)