On Friday, June 19, 2009, the Vietnamese Week Grand Performance was held at the APU Millennium Hall and drew the curtain down the Vietnamese Week. Multicultural weeks, held every semester at APU, aims to build up students' awareness of different cultures and strengthen students' identity through expressing their own culture through a range of events and performances. In the 2009 spring semester, students from Vietnam, China, Indonesia, Thailand, and Korea will work together to introduce their countries through their own Multicultural Weeks.



With "The Gods looking for the best of Vietnam" as their performance theme, they successfully lit up the Millennium Hall and received a roaring applause from the audience throughout 90 minute show. With the aim of introducing the culture of Vietnam, approximately ten performances were given throughout the show ranging from a scene from a musical drama, traditional and modern dances, a fashion show and Vietnamese musical band.

Around 300 performers, including elementary students from Ritsumeikan Primary School, APU International students from various countries such as India, the USA, and Mexico, and Vietnamese students all worked together for the final Grand Performance over two months of hard practice.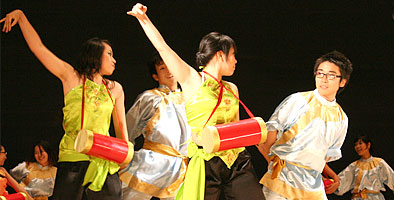 Looking back on the two months, Pham Bich Ngoc (APM3, Vietnam) spoke of her impressions as the leader of Vietnamese Week, "I am really happy that we ultimately could make such a great show tonight. It was a tough process and we had to overcome all kinds of obstacles, but this will remain with me as great experience".

At the conclusion of the event, Werner Scheiblhofer (APM, Austria) commented on the grand show, "The performances were really great and I enjoyed it a lot. This is the first time for me to see such a show at APU, and the design of the whole performances was just wonderful. It far exceeded my expectations".

The participating countries for the Spring 2009 Multicultural Weeks are as follows:
Monday, June 15 - Friday, June 19:Vietnamese Week (finished)
Monday, June 22 - Friday, June 26:Chinese Week (finished)
Monday, June 29 - Friday, July 3:Indonesian Week (under way)
Monday, July 6 - Friday, July 10:Thai Week
Monday, July 13 - Friday, July 17:Korean Week

*Multicultural Week is sponsored by the Nakajima Foundation
Reporter, Student Press Assistant (SPA): Virgi Agita Sari (APS2, Indonesia)