On Sunday, June 21, 2009, as part of efforts to further improve its level of service, student assistants of the Ritsumeikan Asia Pacific University (APU) Library underwent a training and orientation session on various aspects of library systems, policies and procedures.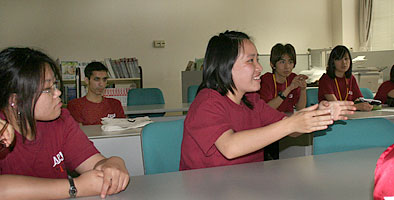 Learning primarily through one-on-one explanations and on-the-job training, 45 student Library Assistants, more commonly known as LAs, took turns sharing best practices and discussing common problems in key areas of library operations such as the checking out and returning of books, usage of the reserve counter, control of errant student behavior in the library, and overall maintenance of the efficiency of library management.

Ms. HASHIMOTO Chika (APS3, Japan) and Ms. INABA Megumi (APS3, Japan) leader and sub-leader, respectively, of the Library Assistant group explained, "By letting the LAs present and discuss issues and recommend solutions, we hope to establish best practices for LAs in actual live situations, thus complementing and further enhancing the current Library Assistant manual of operations". Serving approximately 6,000 APU students 332 days a year, LAs provide a critical support function to the main library personnel.

The group culture cultivated among LAs is one of prompt customer service and continuous learning. An LA joins any one of three teams, namely: Project, Manners and Guidance, and on top of weekly team meetings, the group also convenes once a month, ensuring that issues and problems are promptly discussed and resolved.

APU Library services can be accessed online via the MyLibrary online portal found at http://mylibrary.ritsumei.ac.jp/mylibrary/.
Reporter, Student Press Assistant (SPA): JIMENEZ(GSAD, Philippines)