On Thursday, July 16, 2009, the student circle " International Bureau OASIS(Organization of APU Students and International Societies) " held the "APU Amazing Race", an event aiming to strengthen international and domestic student exchange on campus. OASIS International Secretariat is engaged in a range of activities and is working towards the establishment of a student council.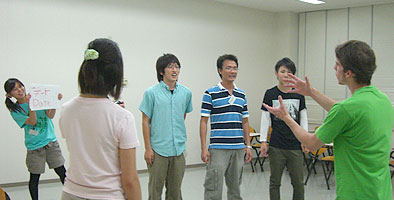 This event came about after comments received at the Second International Conference* held by International Bureau OASIS in January this year which said that, "we want a place where international and domestic students can engage more in exchange that utilizes the APU multicultural environment". Twenty four domestic and international students from nine countries and regions took part and strengthened their relationships.

The participants divided into three teams and interacted as they vied for points through games and quizzes. Questions were given about APU such as "How many meters above sea level is APU?" to which the students got involved as they discussed the answers amongst themselves. They all tried their hand at three games: gesture games, bean-and-chopstick challenge, and skipping. During the bean-and-chopstick challenge they vied to see how many beans they could move with chopsticks. This proved to be a close match and the international students put up a good fight. The winning students from Uzbekistan and Vietnam received a range of prizes such as fireworks.




One of the participants, KARIMOV Ravshanbek (APM2, Uzbekistan) gave his impressions, "The quiz was a bit difficult but it was a lot of fun and I made some new friends. While another participant, ITO Ryosuke (APM1, Japan) said, "The gesture game was great fun and I hope to participate again in the future if I have the opportunity".

International Bureau OASIS (Renamed from OASIS from AY2009) began in autumn 2005 with the view to establishing a Student Council under the philosophy of "Making an even richer campus by utilizing the international flavor of APU". The circle's driving force is the student voice and in addition to this event, they are currently involved in a range of events aiming for the realization of an ideal APU life such as producing information magazines and passing on comments and opinions gathered at the aforementioned Second International Conference onto the university.

* Please click here for the article on the Second International Conference held by OASIS this January
http://www.apu.ac.jp/home/news/article/?storyid=1098⟨=english
Reporter, Student Press Assistant (SPA): KOMORI Midori (APS2, Japan)