On Saturday, July 18, 2009, the Special lecture for high school students "Hirameki Tokimeki Science –Welcome to the University Lab" was held at APU and 22 Oita Prefecture high school students took part.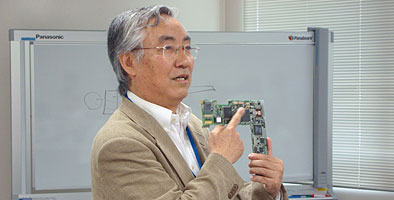 "Hirameki Tokimeki Science" is a program which aims to give high schools students an opportunity to experience the cutting edge research taking place at university and let them feel just how interesting science is. Held jointly by the Japan Society for the Promotion of Science and APU, this event is now in its third year. Under the theme of "Japanese Technology and International Management ~ From the Birth of LCD Calculators to the International management of liquid-crystal TVs", APM Professor NAKATA Yukihiko and the former Sharp Oita Technology Center Director Mr. SHUTO Yoshihisa delivered an interactive lecture.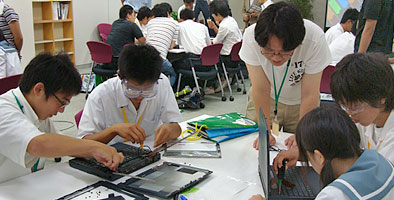 Professor NAKATA delivered a lecture on "the structure of LCD" and "LCD manufacturing", and the participants took apart an actual lap-top computer and observed the structure of the LCD inside. Mr. SHUTO, with many years of experience with LCD repairs etc, explained the "LCD history and changes" and introduced the "worlds first desk-top electronic calculation devise (calculator)" which is on display at the British Museum. During the lecture, APU international students also participated as teaching assistants (TA) and held group discussions and presentations under the theme of "What is needed for creative technology/product research and development?"

The high school students took advantage of this opportunity to satisfy their intellectual curiosity and nurture their creativity on a day which proved to be fine chance to get a rare glimpse into the makings of a computer and see the words first calculator.

Members of the Japan Society for the Promotion of Science Event Promotion Committee came along as observers and held in high regard the active and creative presentations, the guidance of Professor NAKATA and the program.

At the conclusion of the event, Professor handed all of the participants a "Ph D. of the Future" and gave a word of encouragement, "Please go on to become the torch bearer for the world renowned Japanese manufacturing".