In April 2010, APU will be marking its 10th anniversary and the 12 months between September 2009 and September 2010 have been set aside to celebrate this occasion. A range of commemorative events will be held as a way of expressing our thanks for the last 10 years. APU hopes to reaffirm just how much it can contribute to international society as a new model example of an internationalized higher educational institution.
Initiatives to mark the 10th anniversary of APU's inception are being posted on the official APU homepage and in this, the forth installment, we will introduce graduates who have made full use of the APU multicultural environment and are currently active in their chosen field.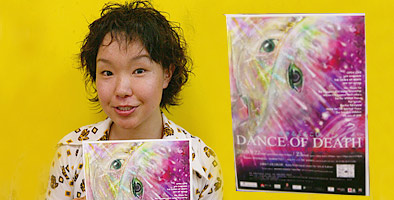 During her time as a student TAKEMOTO Hisayo (APM Grad, Spring`05), who graduated APU in 2005 and is currently active as a dancer and dance instructor with the Mariko Dance Theatre, established a theatre group with other APU students, gave performances with the APU student circle "Yossha koi" in Turkey, Denmark, Greenland and Macau, got actively involved on-campus and made full use of the APU multicultural environment.

Looking back on her time at APU, Ms. TAKEMOTO said, "Through my four years here I was able to develop communication skills with students and faculty staff abound with energy and variety and didn't rely only on language. I expect APU to nurture human resources with objectivity and individuality who can adapt to any situation and with the communication skills needed deal with the coming age."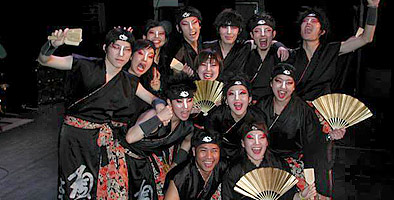 The Mariko Dance Theatre Group, which Ms. TAKEMOTO is affiliated with, will welcome the Hungarian dancer and choreographer Pal Frenak as a guest dancer when they perform "Dance of Death – Joy of living" at the Kyoto Prefectural center for Arts & Culture to mark the re-establishment of Japanese diplomatic ties with Hungary.

Please click here for more details on the Mariko Dance Theatre:


MUSAEVA Feruza (APS Grad, Spring'08, Uzbekistan), who graduated in 2008 and is currently working in the Personnel Division at Panasonic Electric Works Co., Ltd., decided to seek employment in Japan to learn more about the country.

During here time at APU, she established communication with a range of people as a member of the Wadaiko Japanese Drum Circle, learnt about team work through her part-time job and deepened her interest in Japanese culture through these experiences.
Currently, she is making use of the teamwork skills and understanding of different cultures developed during her student days, and looking to see just how much she can get involved in her new surroundings, develop personally and produce results.

Looking back on the time she spent in the multicultural environment of APU, Ms. MUSAEVA said, "human relations are important when it comes to work, but good human relations are made under the premise of understanding each other's culture. I hope that students will get actively involved with events such as Multicultural Week and of course, not be bound by nationality, religion or culture in their daily life."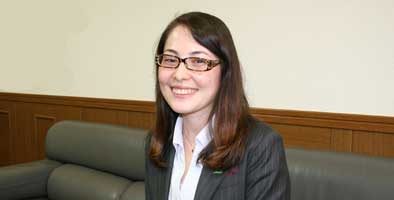 The "Three 50's" declared by APU at the time of its inception (50% international students, 50% international faculty and students from over 50 different countries and regions) and these goals were reached almost from the university's first year. APU has succeeded in realizing a multicultural coexisting campus where currently approximately 3300 domestic and approximately 2800 international students from 87 countries and regions come together (as of May 1, 2009). APU students are developing their skills and daily taking on challenges in a range of fields with a wide viewpoint through developing their mind and body and overcoming the boundaries of nationality, culture and race in the unique APU environment.