On Tuesday, July 21, 2009, the "Shinjin Kouen" was held at the APU Millennium Hall. "Shinjin Kouen" in English literally means the "first performance for new students". The new student members of Japanese traditional dance circles such as Yoshakoi, Wadaiko "Raku", Mai "Raku", Eisa "Champur", and Arauma "Chiyo" were invited to participate in this performance.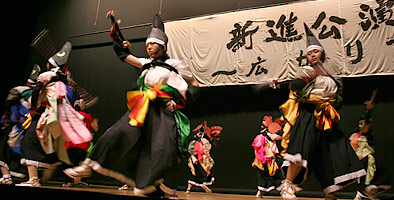 The theme for this year's Shinjin Kouen was "Hirogari" (expand). The word "Hirogari" in Japanese conjures a wide range of connotations such as to expand the relationships among Japanese traditional performing arts circles, to increase their experience as well as to highten their skills and proficiency.

The show was originally planned to be held at the outdoor Wave Amphitheater, but due to the bad weather, the venue was moved indoors to the Millennium Hall and the start of the show was delayed but this did not hamper the audience of not only APU students, but also Beppu residents, from coming along to enjoy the show. The show started with a very professional opening, followed by great performances by each of the circles. Even though most of the performers were new students, every circle did their very best to show their seriousness and professionalism.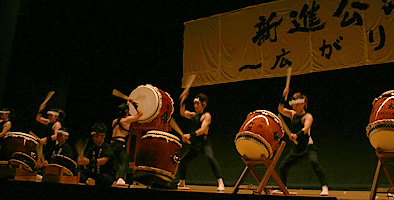 Member of Eisa Champur, SAKAMOTO Chika (APS4, Japan) commented on the performance "It was really great! Even though it was disappointing that we could not do it outside due to the rain, we tried our very best for this show. The audience seemed to enjoy the show and we hope that we gave them what they wanted."

INDRA Tamarind P. K. (APM4, Indonesia), a performer with Arauma-Chiyo, was also excited at performing in the show, "It was great fun! We practiced many times and encountered many problems, but we got through them all. I think the crowd was entertained and I had a great experience."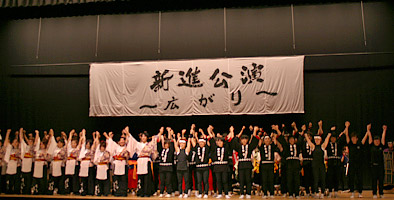 Reporter, Student Press Assistant (SPA): Raz Arisyi Fariza (APM3, Indonesia)