On Tuesday, July 21st, 2009 three students from Dongguk University, one of the most prestigious universities in South Korea, came to visit APU and met with President CASSIM. The students are affiliated with the "Dongguk Post", their university's student newspaper organisation, and also took the opportunity to exchange with representatives of APU student press organizations.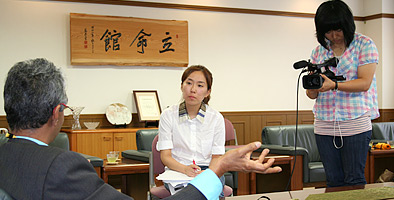 President CASSIM was interviewed by the Korean students who had come all the way to Beppu to get more information about the system and student life of the multicultural APU. President CASSIM responded warmly to their questions, sharing glimpses into the history of APU and how the scholarship programs for international students has been supported.

Three representatives of the APU Student Press Assistant group (SPA) met with their Korean counterparts and enjoyed a discussion about their university press activities. The Korean students gave their impressions on the warm, uniquely multicultural APU campus and asked SPA members about their student life such as scholarship programs. SPA members also made inquiries about the workings of the "Dongguk Post" that was established approximately one hundred year ago.

The SPA students and Dongguk Post members engaged in an in-depth discussion on a range of issues to do with student life and both parties appeared keen to put to use the knowledge and insights gained from each others university. The student press assistants from both universities exchanged contact details and hope to keep in touch in the future. Let's look forward to the fruits of such inter-university exchange.
Reporter, Student Press Assistant (SPA): NUGROHO Katarina Marsha Utama (APM3, Indonesia)