教育プログラム|連携事業
Aug 12, 2009
On Wednesday, July 22nd, a presentation session was held at APU for Iwata Secondary School students on the APU Ritsumeikan Course to present the results of their studies. Students gave presentations in front of APU faculty and staff and their parents.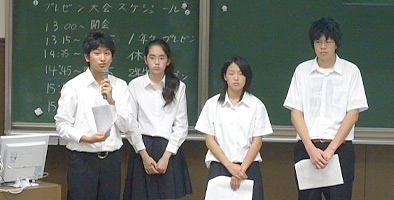 The Iwata Secondary School APU Ritsumeikan Courses entered its 2nd year in AY2009 and for this session 1st-year students gave presentations on APS fields while 2nd-year students gave presentations on APM fields. They presented the results of their studies during the spring semester.

First-year course students seemed nervous to be participating in their first session, but gave solid presentations on 4 topics: "Viewing the world from chocolate", "Why are coffee farmers poor?", "Are Happy Meals really happy?" and "The world from the eyes of a chicken".

Having already done one presentation last year, the 2nd-year students actively posed questions to the 1st-year students and gave them advice on their presentations. The 2nd-year students, learning from their experience last year, gave well-designed presentations on APM-related topics such as "Fast food restaurant strategies for attracting customers", "Opportunity costs" and "Incentives".

APM part-time lecturer MAKINO Hirofumi, who served as a special guest judge for the occasion, gave an encouraging statement, "I was very surprised that high school students could give such advanced presentations. Presenting is of the skills you will need when you enter the working world. I think your presentations will improve if you not only read your notes but focus on getting your point across with eye contact. I wish you all the best."

Many course student parents and APU students chimed in with questions and comments making the session an invaluable experience for all the participants.

Since April 2008, Iwata Secondary School has been involved in the APU Ritsumeikan Course as part of the High School - University Cooperation Agreement forged between APU, Ritsumeikan University and Iwata Secondary School (May, 2007).In addition to enhanced educational programs, APU faculty and TAs visit the Iwata Secondary School once a week to lecture 1st and 2nd-year high school students.