In April 2010, APU will be marking its 10th anniversary and the 12 months between October 2009 and September 2010 have been set aside to celebrate this occasion. A range of commemorative events will be held as a way of expressing our thanks for the last 10 years. APU hopes to reaffirm just how much it can contribute to international society as a new model example of an internationalized higher educational institution.
Initiatives to mark the 10th anniversary of APU's inception are being posted on the official APU homepage and in this, the fifth installment, we will introduce the 10th Anniversary logo-mark and planned commemorative academic symposium.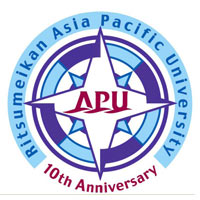 APU has commissioned a commemorative logo-mark to spread the word of the 10th anniversary with everyone involved with the university. During the preparations leading up to the creation the logo, many group work sessions were organized and numbers exchanges of opinions took place. Through this process, the concept of "Find your future path at APU" was borne. It is an image of a compass that leads students as they take flight without hesitation from APU out to the wider world towards their future with unlimited potential.

The man in charge of the design, YAMADA Hironobu of TSU-KU-RU Inc, was drawn to the unique charms and characteristics of APU that can't be found at other universities: the active and energetic students working hard in a beautiful environment with a real grasp of the issues. It was these perceptions which inspired him to express the APU logo as a compass by which students can find their future.
Faculty and staff are currently wearing polo shirts incorporating the logo-mark to promote the 10th anniversary to students and people both on and off campus. In the future it will make its appearance as a unique APU product.

Furthermore, on Saturday, November 21, 2009, an academic symposium is planned to commemorate APU's 10th anniversary and the APU Confucius Institute's 3rd anniversary under the theme of "Prospects for a new era Japan-USA-China". From a standpoint of making a contribution to genuine Chinese understanding and friendly Sino-Japanese relations, the symposium aims to contribute to the building up of Asia-Pacific studies, one of APU's missions, and will welcome Japanese representatives from journalism, business and scientific societies and look from a range of angels at the cultural and economic roles Japan and China should play in international society of the 21st century.

Furthermore, we are also planning for APU Public Lectures to mark the 10th anniversary and events utilizing the multicultural APU environment as a way to express our gratitude to the people of the region.

In addition to setting up countdown boards for the start of the 10th anniversary around the campus, we are organizing student staff and working together with students and staff in preparation for the APU 10th Anniversary celebrations. Please look forward to it.