The National Forest Rejuvenation Project
On Saturday May 21, 2005 APU students took part in the 5th National Forest Rejuvenation Project at Lake Shidakako in Beppu.
Forests provide a source of fresh water and clean air and are a shared resource of Oita Prefecture residents. It's important for each and every one of us to protect our forests and help nurture them in order for us to pass them onto the next generation. The Prefectural Greenery Promotion Centre sponsors this event to bring local citizens together to foster a deep appreciation of the forests and to encourage them to be conscience of the need for forest rejuvenation. A diverse range of people participated including fishing and forestry officials, exchange students from a number of universities in Beppu and citizens from the local area. Twenty-five students from APU took part including 18 international students and 7 domestic students.
Three representatives from participant groups and businesses delivered messages on the environment and called for the participants to "Protect the Forests".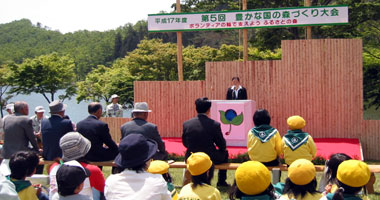 Kevin Rullyana Fitriana (APS3) in her speech said, "My home country of Indonesia contains 10% of the remaining tropical forests in the world and are said to be part of the 'lungs of the earth'. However, forest destruction has occurred at one of the worst rates in the world; and has led to natural disasters such as floods and landslides. In order to address this situation a strict law concerning deforestation has been enacted and events like today's forest rejuvenation project are being put into practice. I hope this message of forest rejuvenation will spread to other nations and initiatives to protect the forests for our children and grandchildren will be continued."
After the speeches were delivered the participants started the commemorative tree planting and planted 120 Japanese red pines, 600 wild cherry trees and acorn trees respectively. A wild cherry tree and plum tree was also planted at the side of AP House. The next National Forest Rejuvenation Project is planned to be held in Nakatsu City.