教育プログラム|学生生活
Sep 10, 2009
Twenty five APU International students from 14 countries and regions such as Indonesia, Kenya, and Sri Lanka took part in the KUMON English Immersion Camp 2009 as camp leaders. Two camps were held, one each in Yokohama City (Aug 6-12) and Hachikogen, Hyogo Prefecture (Aug 14-20) in which a total of 144 children took part in this all-English camp under the guidance of their camp leaders.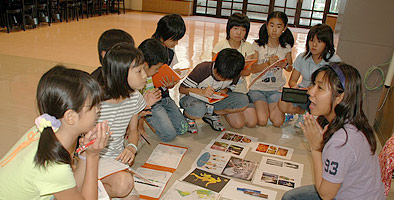 Each day of the camp was held under a different theme such as "Expression", "Challenge", "Team work" and "Awareness" which served as the base for the activities for that day. On Day 4 (Aug 17) under the theme of "Diversity", students took part in a "Traveling around the World" activity in which they pretended to travel to their camp leader's home countries and regions. For example, in Sri Lanka they enjoyed tea tasting and the local delicacies, and in Korea made origami traditional "Hanbok" dresses.

During the closing ceremony the students presented their dreams for the future in English and demonstrated the confidence in speaking in English. During the ceremony, the tears and smiles from all of the KUMON officers, staff, camp leaders and participants illustrated the joy of their achievement and sadness at having to part.




The twenty five APU camp leaders, chosen from the approximately 170 applicants, went through a strict selection process and a range of training sessions as a part of their preparation. The "KUMON English Immersion Day" held at APU in early July also served as chance for the tutors to build up confidence and experience.
One of the APU camp leaders Puti Chitara Sekar Kesuma (APS4, Indonesia) gave a few words of encouragement to the students, "This year's camp was a great challenge for me and the other camp leaders as both mental and physical strength were vital in order to give our very best. I have great expectations for the children who took part and hope that through this program they can make their contribution to a better future."

The participating said that through this English Emersion Camp they came to understand that we can communicate with people from non-English speaking nations via one language: English.

APU domestic student KAMADA Noriyasu (AP, Japan), who experienced the camp as a primary school student, participated in this year's English immersion camp as part of the management staff and spoke of his impressions on the camp, "The leaders were made up of 14 different nationalities and I liked seeing them work together to achieve one goal which was to do everything that they could for the kids. I also enjoyed working with the Kumon staff and hearing their ideas on the camp. The effort they put in was amazing and I am very happy to have been able to work with them."

The KUMON English Immersion Camp is an annual event program conducted by KUMON English Institution of Education Co., Ltd. and is designed for elementary school children so that they can use the English they have learnt through their daily English study, expand their view of the world and realize their full potential. APU has been cooperating with this program since 2001 and APU students from different nationalities have been actively participating as camp leaders.
Reporter, Student Press Assistant (SPA): Virgi Agita Sari (APM2, Indonesia)