58 students comprised mainly of members of PRENGO, an officially recognized student NGO, conducted their 12th round of volunteer activities in Thailand from Sunday, August 30th through Tuesday, September 8th.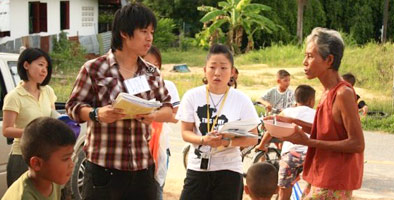 PRENGO's activities are conducted based on the principle of "working with local residents to create educational opportunities and improve the educational environment". Every year in February and September, members engage in volunteer work at the Ban Khao Huai Mahad Elementary School in Thailand's Rayong Province.

Using the One Village, One Product model that originated in Oita Prefecture, PRENGO has previously operated economic aid programs, such as the manufacture and sale of Thai pants, with the aim of improving household finances and increasing peoples' incomes. They also acted on a proposal from KAGEYAMA Hideo, the Vice Principal of Ritsumeikan Elementary School, to introduce 100-plot math drills into school educational programs. There are just some of the many activities that PRENGO has successfully undertaken.

This summer PRENGO conducted activities in the Mahad region, where they have volunteered in the past, and added a new area for support, Thapkradaht Elementary School, which was determined after a field survey implemented in February.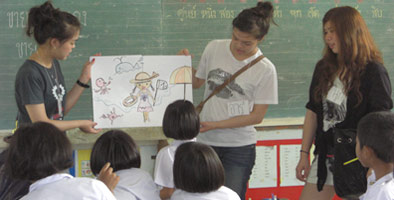 In the Mahad region, PRENGO did not conduct its usual activities, but instead undertook a survey based on the theme of "Independence for Local Leaders" to assess the need for each of its projects.

In the Thapkradaht region, PRENGO held exchange meetings and visited households with children to seek understanding from and build relationships of trust with the local residents. The happy, smiling children enjoyed meeting the members, who received positive response with regard to future activities.

During this visit, PRENGO also ran an educational support program at the Prateep Suksa  School in Suphanburi Province as per a request from the Japan-Thailand Trade Association PSS Scholarship Committee which runs a foster care program there.

Reflecting on this summer's activities, support group leader IMAMURA Miku (APS2, Japan) also touched on the group's future aspirations, "This summer's trip occurred during a major transition for PRENGO since we are scaling down activities in our current support region and preparing to ramp up volunteer work in new areas. Our stance is and always has been to work hand-in-hand with the local people to solve their problems, and I think we produced a lot of positive results and learned a lot of things during this transition. We intend to set goals with the local residents keep running activities going forward."

As it always has, PRENGO will continue to focus its efforts on supporting sustainable development in Thailand.