On Friday 18th September, 586 new students attended the 2009 Fall Entrance Ceremony, which took place at APU Millennium Hall.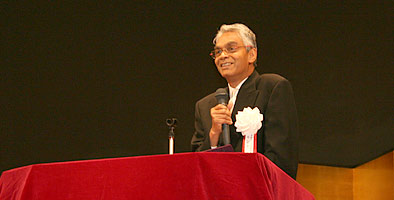 The 418 undergraduates (38 domestic students, 380 international students), 105 graduates (16 domestic students, 89 international students) and 63 exchange students (3 domestic, 60 international) hail from over 97 countries and regions worldwide. New students from Republic of Maldives, Brunei Darussalam, Islamic Republic of Afghanistan, Republic of Senegal, Belize, Republic of Chile, Republic of Colombia, Republic of Tajikistan, Former Yugoslav Republic of Macedonia, Republic of the Fiji Islands represent their respective countries for the first time.

The ceremony commenced with a welcoming address from APU President, Mr. Monte CASSIM who said, " I am confident you will grow to become the leaders of this new era. My colleagues and I pledge to support you in every way we can. Think outside the box, and let your creativity blossom. Indeed, as Sir Walter Scott(*)observed, 'One crowded hour of glorious life is worth an age without a name' Do enjoy life at APU."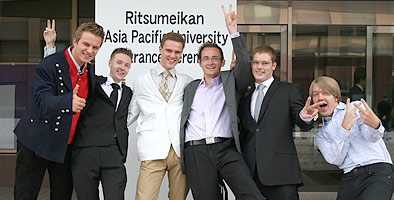 This was later followed by a welcome speech on behalf of current APU students Mr. PARK Kiho (APS3) , Mr. PARK gave the message "APU has given knowledge to a lot of people, at the same time, APU has had knowledge from many people. Now it's time that you become a 'pioneer of exchange of knowledge' at this 10th anniversary. And try to create a 'good society' in real meanings for yourself, friends, APU, the world and for all of society. You can do it!"

Then, on behalf of the new undergraduate students, Mr. ZHU Wei (APM, China) and NGUYEN Bach Nga (GSA , Vietnam) spoke of their hopes and aspirations, Mr. ZHU said "I believe that all of us here would not only perform to our best in our academic studies, but also learn about our new surroundings, the people who live here and their ways of life. We would try to learn from another culture, share our ideas and interact with people of all ages in an effort to broaden our experiences and philosophies. Moreover, we would be proud to be a student of APU and in future, we intend to represent our university to maintain its excellent reputation."

As a finale to the Entrance Ceremony, current students held a few short performances in order to introduce the various Circles and Societies at APU Millennium Hall.
They enjoyed the enthusiastic performances, which sent a warm welcome to the new APU students about to embark on their new campus life.

*Sir Walter Scott: Scott was a prolific Scottish historical novelist and poet.
He has been credited with rescuing the Scottish banknote and his portrait appears on the front of all notes issued by the Bank of Scotland.