教育プログラム|学生生活|連携事業
Sep 24, 2009
On Friday, September 11th, 2009 a completion ceremony was held for the 13 students in the first batch of the Global Business Leader Program and the Kyushu Asian Highly Specialized International Student Development Program (both sponsored under the MEXT-METI Asian HRD Fund) prior to the graduation ceremony.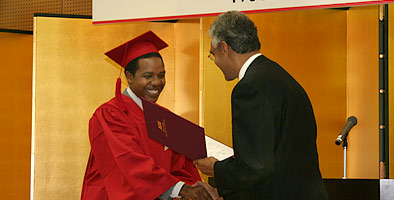 The Global Business Leader Program, or GBLP for short, was operated as part of an APU program which was successfully awarded funding from the Japanese government's Asian HRD Fund, an exchange student subsidy program. For this program, APU recruited outstanding students from Asia who expressed a desire to work in Japanese companies. The objective was to foster global human resources and liaisons who could succeed in business in an effort to boost the international competitive edge of Japanese companies.

The "Kyushu-Asia International Students with Practical Skills Development Project" is an educational program managed by the Aso Juku Academy. It is aimed at international students in the Kyushu region and focuses on business Japanese skills and company internships with a view towards employment in Japanese business.

At the closing ceremony, President Cassim greeted the students and Program Promotion Committee Chairman Korenaga offered a few words of encouragement, "As industries and economic structures change, I expect all of you to play central roles in Japanese companies. I wish you all success in your companies and hope that you will build relationships of trust and cooperation throughout the Asia Pacific region."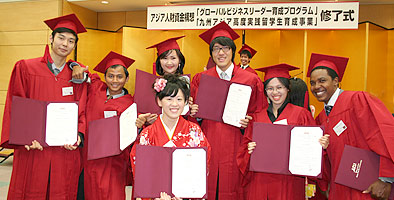 President Cassim presented each student with a Certificate of Completion, after which each student thanked their teachers and remarked on their aspirations for the future:
"I would like to thank all the company personnel, faculty and staff who worked to make the most of our different personalities in training us."
"I am proud to be a first batch GBLP student and want to be a globally active business leader."
"I want to work as a bridge between Japan and the world".

The GBLP Program is about ready to welcome its 5th batch of students. The aim is to develop future leaders who can contribute to Japan's economic development while leading the way in the Asia Pacific. In addition to regular APU classes, Program students spend their 3rd and 4th years taking GBLP subjects (16 credits) including special seminars and internships. The Kyushu Asian Highly Specialized International Student Development Program is about to welcome its 3rd batch of students. The program offers a specialized menu to provide students with advanced capabilities.

APU holds as one of its core philosophies the "future shape of the Asia Pacific region" and will continue to provide top level education and nurture global human resources for the future of the Japanese business sector.

Please click here for more details on GBLP.
https://www.apu.ac.jp/home/modules/keytopics/index.php?content_id=305