On Thursday, September 17, 2009, a ceremony was held to welcome the 28 new international students admitted into the APU Graduate School (Graduate School of Asia Pacific Studies Graduate School of Management) under the Japanese Grant Aid for Human Resource Development Scholarship (JDS) and JICA Researcher System. The new students hail from 9 countries and regions such as Tajikistan, Vietnam and Myanmar.



The JDS Program aims to contribute to various countries human resources development initiatives by performing an important role in developing top up-and-coming scholars and administrative official's ability to become the potential leaders of the 21st century and by supporting the strengthening of government and administrative organisations. This Japan International Cooperation Agency (JICA) program provides opportunities for research and education in Japan's institutions for higher education and involves the development of developing nations' social and economic planning.

The ceremony welcomed Director of the Japan International Cooperation Centre (JICE) Mr. SUGAWARA Kiyohide, Vice President YAMAGAMI Susumu and Dean of the Graduate School of Asia Pacific Studies Jeremy EADES in addition to faculty teaching and administrative staff. Professor EADES introduced the graduate school and gave a few words of encouragement, "Welcome to APU, I hope you enjoy your stay here and are successful in your research and courses –I wish you good luck."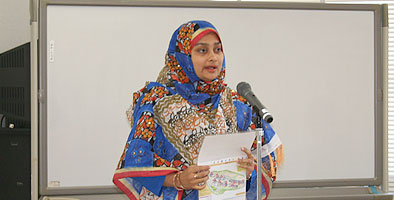 Following this, Nahid Rahman (Bangladesh) said a few words as representative of the exchange students and spoke of her aspirations for the future, "Thank you APU for welcoming us onto this beautiful campus on top of the hill –we feel like we are on top of the world. Thank you also for opening a new door to us through which we will be able to better serve our respective nations. It has been our dream to come here and I sincerely hope that we enjoy the multicultural society of APU. We promise to contribute to the development of our respective nations and humanity as a whole."

After an introduction of the faculty and staff members, the exchange students gave an introduction of themselves and their research themes. The students looked keen to get started with their new student life in Japan.

APU has been accepting Official Development Aid (ODA) exchange students since the start of the JDS program in 2000. To date, the number of public officials involved in administrative policy drafting from Asian countries studying at APU has reached 187 made up of 178 JDS research students from 10 different countries and 9 JICA research students from 6 different countries.