From August 31 until September 10, 2009, seven public officers from Indonesia, Malaysia and Thailand participated in a training course at APU under the theme of "Development and Promotion of Regional Industries Utilizing Local Resources for Asia." This training course was commissioned by the Japan International Cooperation Agency (JICA), and was held in cooperation with the NPO "Hatto Onpaku" (Beppu Hatto Hot Spring Expo).



During the course, the group attended lectures delivered by members of the community involved in the "Onpaku" project, inspected the areas where "Onpaku" projects have been put into practice and visited a number of areas in Beppu. The trainees also visited "Bonpaku" (Miyakonojo Valley Expo) where Onpaku-style regional development is currently underway.

Lectures, case studies and group discussions on community capacity development were held at APU by APS Professor MIYOSHI Koichi during which the trainees drew up possible activity plans that would work on their home countries. APU graduate school students participated in as facilitators and proved to be good advisors to the trainees.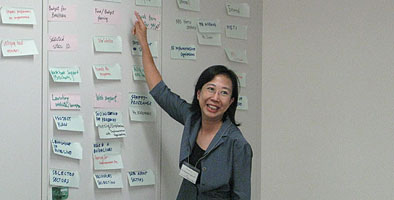 One of the trainees, Mrs. WANNALERT Kulpramote, Director of the Attractions Promotion Division for the Tourism Authority of Thailand, spoke about her experience at the training session and her aspirations for the future, "I think that the Onpaku regional development model has a lot of potential for the promotion of community-based tourism in Thailand. This could help the development of small businesses in the community. When I go back to Thailand I want to examine the feasibility of carrying out community-based tourism projects using the Onpaku model."

A similar training program is scheduled to be held at APU beginning October 26, with public officers coming to participate from Indochina and Oceania. The training is entitled "Development and Promotion of Regional Industries Utilizing Local Resources for Indonesia and Oceania," and will also use Onpaku as a case model for regional development.

Modeled on Beppu City and hot spring revitalization activities by citizens group, NPO "Hatto Onpaku" is a non-profit organisation established with the aim of holding a range of events making use of the resources of the community. "Hot Spring Exposition" (Onpaku) has been planning and holding community based events since 2001. In 2004, The Ministry of Economy, Trade and Industry's "Health Service Industry Creation Support Program" was adopted into the Oita Prefecture's "Base Tourist Area Maintenance Program". Currently Onpaku-style community revival projects have spread to 10 sites around the country as a model for regional development.