From August 26, until September 10, 2009, the student circle "Syria, Your Home" held their 2nd tour to the Middle East, and during the trip the 15 participants travelled around World Heritage Sites of Syria and Turkey.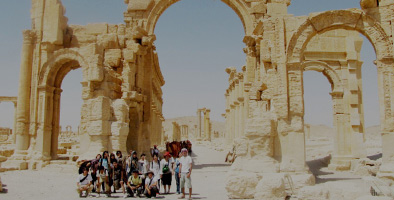 This tour to the Middle East was planned and managed by APU student Syrian student Mohammad HAJ MOHAMAD (APS4, Syria) out of his desire to introduce the culture of the Middle East to Japan where it is relatively unknown. Mr. HAJ MOHAMAD also served as the tour guide.

In addition to visiting scenic spots and the ancient historical relics and World Heritage Sites of Cappadocia and Palmyra, they also camped out in the dessert and got to meet and exchange with the locals. In this way, they were able to taste Middle Eastern culture that can't be experienced simply through sight seeing.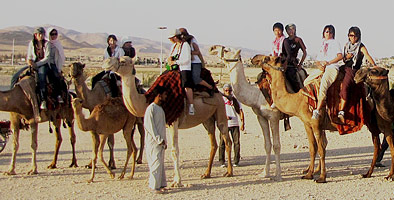 One of the tour participants BANCHI Akie (APM3, Japan) spoke of her impressions of the tour, "By participating in this tour I came to realize that my impressions of the Middle East were due to a biased perception. In the future I want to study and know more about the Middle East".

Furthermore, Mr. HAJ MOHAMAD spoke of his aspirations for the future, "I worked hard so that everyone on the tour could get the most out of it as they could. We had a bit of trouble with the program and schedule and I was relived when it all came together in the end. In the future I hope to put together a tour program which places more emphasis on exchange and mutual understanding, not only sight seeing".

The next "Syria, Your Home" trip around Egypt, Syria and Turkey is planned for February 2010.
Please take a look at the "Syria, Your Home" homepage for more information on this trip.
http://syriayourhome.org/default.html