教育プログラム|学生生活
Oct 19, 2009
On Thursday, October 1st a meeting of all AP House Language Learning Community (LLC) students was held to boost motivation and set learning goals for the Fall Semester.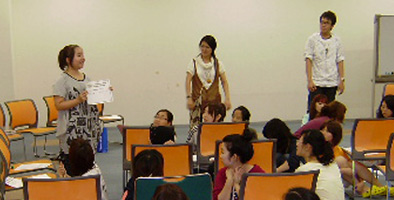 The LLC is a new learning support project in AP House that aims to develop internationally-minded human resources with advanced language proficiency. This unique initiative is designed to improve domestic students' English proficiency and international students' Japanese proficiency through the development of good study habits. Students study during set study hours and receive guidance from LLC advising faculty and older students based on their learning goals.

In the meeting, each LLC student set his or her own goals and expressed his or her intent to achieve them. Among the goals mentioned, many domestic students set goals to reach the TOEFL scores required for study abroad, while many international students who intend to work in Japan in the future set goals to improve their Japanese proficiency.

LLC Supervisor and APS Professor KONDO Yuichi attended the meeting and encouraged the students with these words: "The strong point of APU's students is that they can speak Japanese and English as well as their native tongue. If you work hard, I believe you will see results. Please make every effort to move toward the goals you have set here today."

LLC students not only encourage each other through mutual study and learning, but approach their goals with sincerity as witnessed by their daily study routines.