On Saturday, October 3rd the APU Women's Volleyball Club, an official university organization, and the APU Men's Volleyball Circle held an Alumni Volleyball Match in the APU Gymnasium to commemorate their 10th anniversary.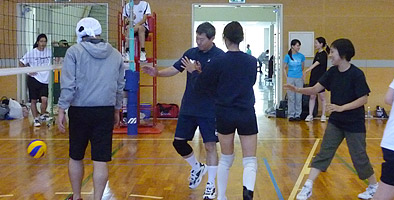 Thirty volleyball club alumni and 18 current members, together with Club Advisor Vice President Yakushiji Kimio and former Advisor APM Professor Fukutani Masanobu, engaged in a spirited tournament. Co-ed teams were divided according to blood type. Despite being away from the sport since graduation, the alumni proved they would not be shown up by the current members in a series of intense games. Vice President Yakushiji joined one of the teams as a player and played alongside the students.

After the commemorative tournament, Women's Volleyball Club Captain Tasaki Yuki (APS3, Japan) remarked, "A lot of alumni joined us today and we were able to hear stories of the club's founding and past activities. After the match, one of the women's club alumni reminded us that `today's volleyball club would not be here without the advisors and players that have supported the club since its founding`. We will not forget this sense of gratitude in our future games."

The Women's Volleyball Club was founded in 2000 and has been one of the top contenders in the Prefectural University League ever since. With their slogan of "Have fun and go into each battle with a smile", the team is practicing with the aim of gaining entry into the Kyushu University League.