Adecco Chairman and CEO, Mark Du Ree
On Wednesday, June 15, APU welcomed Mr. Mark Du Ree, Chairman and CEO of Adecco Ltd and member of APU's Advisory Committee, as guest speaker for the 8th Top Executive Lecture. Born in the United States, Mr. Du Ree has spent approximately 16 years in Japan. Currently on his third stint in the country, he has reached the ranks of Chairman and CEO of Adecco Ltd., the global leader in Human Resources Services.
To a packed auditorium of students, lecturers and local citizens, Mr. Du Ree addressed the following theme "World-Leading Adecco Predicts! Futuristic Design for the Employment System" and talked about the changes in the workforce in Japan and how, with its aging population, Japan is set on a course that will have a negative impact on economic growth. While the Japanese Government has a number of policies aimed at boosting the acceptance of foreign labourers, it needs to "encourage companies to work harder to accept foreign workers and encourage them to adopt foreign ideas as well."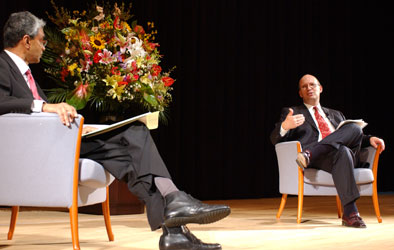 Mr. Du Ree continued on to talk about employment in Japan, the current compensation system and the actual productivity of Japanese workers, in a society where "it's against the social taboo to go home before your boss does." In regards to the hiring of international students in Japan, Mr. Du Ree stressed the importance of having strong language skills and knowledge about Japan and foreign countries, stating that "every person who ever becomes an employee has to be a salesman," selling themselves; their ideas; and their creativity and motivation to potential employers. In conclusion, Mr. Du Ree talked about the benefits of graduate staffing and PEO (Professional Employment Organization), a new employment style taking hold in the USA.
Following his presentation, Mr. Du Ree was joined on stage by APU president Monte Cassim. President Cassim commented on the changes in the Japanese workplace and voiced his agreement regarding the need for a freer labour market, stating that universities and other institutes of higher education can help "foster the freer movement of labour across our nations."
The 8th Top Executive Lecture ended with a few questions from the audience. 4th year student Samuel Nganga from Kenya, asked Mr. Du Ree about graduate staffing for international students, to which Mr. Du Ree replied that, "It is important for us [Adecco] to be able to find foreign students and place them into Japanese companies to help the Japanese companies understand how easy it is [to accept foreign workers]."
Mr. Du Ree's lecture gave students a wonderful insight into the current employment situation in Japan, while also informing them of the skills they need to survive in today's competitive job market.