On Monday, September 14, 2009, a ceremony was held for Managing Executive Officer of Sasebo Heavy Industries Co., Ltd. YUSHITA Yoshifumi to mark the end of his training at APU. Over the last year, Mr. YUSHITA has been studying at the College of International Business and Graduate School of Management.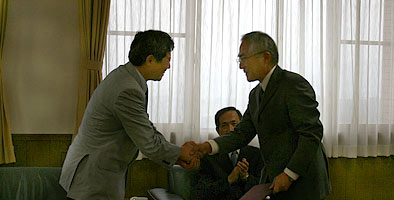 From Sasebo Heavy Industries Co., Ltd, Youichi KATOH (Director, Senior Managing Executive Office and Shipyard General Manager) and Kazuto TANIMOTO (General Manager, Human Resources Development Dept.) attended the ceremony. APU Vice-President YAKUSHIJI Kimio and APM Dean Professor YOKOYAMA lead the APU contingent including APU Secretariat Director SHIOTA and Deputy Managing Director KIDA.

APU Vice-President YAKUSHIJI handed Mr. YUSHITA his certificate of completion and offered a few words of thanks, "Your thoughts and views as a professional in Japanese industry have been a great inspiration and stimulant to the students who studied with you".

Dean YOKOYAMA also expressed his appreciation, "While an industry top executive, Mr. YUSHITA also fitted in well as a student. The students treated you the same as they would any other student and this cordial atmosphere provided a wonderful opportunity for both parties to learn."

Over the past year, Mr. YUSHITA enjoyed living at AP House together with his fellow students as a room mate and, as a man with vast experience of the world, as a dependable source of advice. He spoke of his impressions looking back on his time here as a student, "Being my first taste of campus life in 33 years, I was a bit confused at times. But this year has gone by so very quickly. During my time here I have been able to learn a great deal of knowledge which fits well with the skills I have built up over my life and I am truly thankful."