On Saturday, October 9, 2009, the Oita Prefecture and Oita Prefecture Industry Association hosted "Manufacturing in Oita – Industry and Academia Exchange Meeting" was held at which College of International Management Professor NAMBA Masanori delivered a lecture under the theme of "Project Protection and the Continuation of the Effects of Innovation".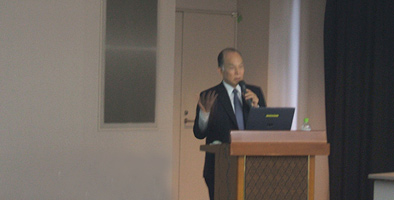 During his lecture, Professor NAMBA gave examples from Japanese businesses as he introduced the concept of Management of Technology (MOT), which aims for the continuation of the effects of innovation, "In the past, there has been interest in the `Valley of Death' stage of the innovation creation process, however these days, the `continuation of the effects of innovation' has become important. If we fail to concern ourselves with the continuation of innovation, then the effects of innovation soon come to an end and we are left with a shortage of funds for the next stage of innovation. Innovation continuation systems should be interwoven from the concept stages as a strategy control point. Initiatives from this view point are also important in industry and academic collaboration."

Professor NAMBA's lecture was well received by the many Oita businessmen and people involved in management strategy and an interest in MOT.

APU established the Asia Pacific Innovation Management Center (AP-IMAC) in December 2008 in response to the increasing regional and global need for innovation management, especially in Asia. In response to the increasing innovation management needs of Asia, AP-IMAC aims to promote the creation of a global network and become a leader in the education, research, and regional and international contribution of innovation management.

Professor NAMBA is a member of AP-IMAC and has been engaged in research under the theme of, "Japanese-Style Innovation Model Research". He hopes to return the results of his research to the community and contribute to the development of the Oita Prefecture industrial sector.