On Monday, October 19, 2009, a group of reporters from 10 ASEAN countries (Brunei, Cambodia, Indonesia, Laos, Malaysia, Myanmar, The Philippines, Thailand, Singapore and Vietnam) visited APU as part of the MEXT hosted reporting tour of Oita under the theme of "Japanese Food and Agriculture and South East Asia" (planned and managed by the Foreign Press Centre).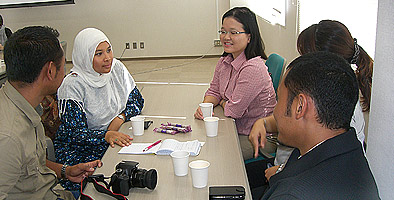 The group was first welcomed by President Monte CASSIM before Vice-President YAMAGAMI introduced the case of Oyama Town and the details behind how it successfully reactivated their region by moving away from rice production towards the cultivation of fruit trees and shiiake mushrooms. The One Village, One Product Movement has its origins in Oyama Town and Professor YAMAGAMI also spoke of the attention the One Village One Product movement is gathering as a powerful means for regional development overseas. The reporters listened intently and raised questions as they came up.

At the exchange meeting with APU students which followed, the reporters asked questions about living in Japan such as what the students are studying at APU and what kind of daily life are they leading. Madel Sabater of the Manila Bulletin (Philippines) said, "APU is a very unique university and I have a deep interest in it. I am very keen to visit AP again in the future".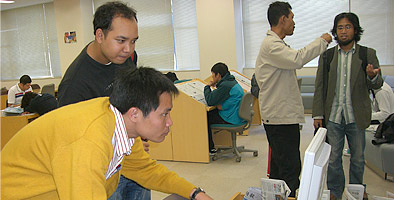 Ananda Setiyo Ivannanto (GSAM, Indonesia) said, "Being able to meet and get to know reporters from our home countries has been a wonderful opportunity for me. I only wish that we had more time at the Exchange Meeting". The event proved to be a meaningful time for the students as well as the reporters.

* One Village, One Product is a regional development initiative which began in 1980 throughout all of the municipalities of Oita Prefecture. Advocated in 1979 by the then Governor of Oita Prefecture HIRAMATSU Morihiko, the project attempts to promote regional development and invites each municipality to develop their own special product.