講演・シンポジウム|来学者
Oct 29, 2009
On Saturday, October 17, 2009, APU Academic Advisor*, Director of the Japan Center for Asian Historical Records in the National Archives, and authority on South East Asian research, Mr. ISHII Yoneo delivered a Special Lecture as part of the APU 10th Anniversary commemorative Public Lectures. A reception was held at the conclusion of the lecture at which 13 domestic and international students from 4 South East Asian countries such as Thailand and Indonesia participated as student assistants. The lecture was well received by both the student assistants and the audience.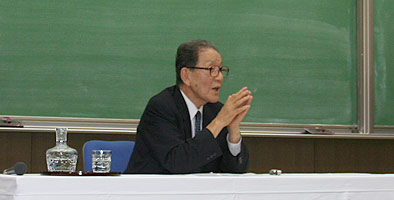 Mr. ISHII spoke of his understanding of different cultures gained through 50 years of researching Thailand and encouraged the audience to get involved in human interaction and exchange, "Learning the language is important when it comes to understanding culture. However, language is a tool to express ones feelings and is therefore not a tool for intercultural understanding. Real international understanding comes not from learning a foreign language, but from getting to know people from different countries and understanding the underlying culture."

During the discussion time that followed the lecture, the question was raised, "We can see children who hold biased views towards certain countries due to partial information. What should we do to get rid of these biases?" to which Mr. ISHII replied, "A real understanding is difficult without direct contact and exchange. Perhaps they need more opportunities for exchange".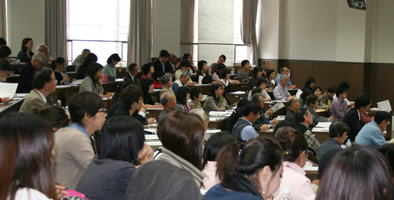 The lecture was well received by the approximately 90 members of the general public with an interest in South East Asia. The audience members were also seen having keen conversations with Mr. ISHII at the reception that followed. One of the audience members gave their impressions, "A number of clear examples of problems with the Japanese English education system were raised. It was a very interesting lecture that I found easy to follow".

After working for the Ministry of Foreign Affairs, Mr. ISHII took up the post of Director of the Japan Center for Asian Historical Records in the National Archives and is the highest authority on South East Asian research in Japan. He also has vast knowledge of foreign languages and has served as President of KANDA University of International Studies. He was presented with The Order of the Sacred Treasure, Gold and Silver Star in 2008 and has been supporting APU since its inception.

APU has recognized the role it plays in the internationalisation and development of the community as one of its central missions and as part of this mission, the University has been holding APU Public lectures since 1998 –before the university opened. The theme for AY2009's APU Public Lectures will be "Intercultural Understanding and Misunderstanding—Getting Lost in Southeast Asia", and these will be held as a series of special lectures to commemorate APU's 10th anniversary.
We are currently looking for participants to attend the remaining public lectures. Please click here for more details:
https://www.apu.ac.jp/home/keytopics/content380/?version=japanese

*Academic Advisors
The Academic Advisors support APU particularly in the advancement of research and education. The 53 members from Japan and abroad include Nobel Prize winning scholars, prominent researchers and individuals from educational fields. In addition to Mr. ISHII, there are many prominent members who provide their support such as Dr. Yoichiro NAMBU who received a 2008 Nobel Prize for Physics and Taiwan's first Nobel Prize winner, Prof. LEE Yuan Tseh.