On Monday, October 19, 2009, Governor of Issyk-Kul Provence, Kyrgyz Republic, Mr. ISAEV Kydykbek and 6 regional government officials visited APU as part of an inspection tour of the One Village, One Product movement in Oita Prefecture. President CASSIM welcomed the group onto the campus and held discussions with the group. Four international students from the Kyrgyz Republic also participated in the discussions.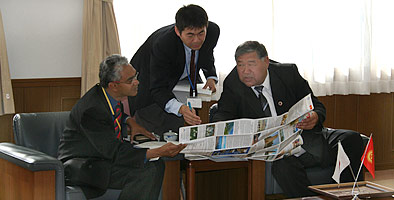 President CASSIM expressed a keen interest in Governor ISAEV's lively introduction of the abundant Kyrgyz natural beauty, products utilizing this beauty and the Kyrgyz culture which has developed though the nation's long history. Governor ISAEV also gave a few words of encouragement to the Kyrgyz students, "I hope that even more of our students study at APU in the future and play a part in the development of our country".

Following the discussion, the officials enjoyed a chat with the Kyrgyz students as they inspected the campus. The group then took lunch with the students at the cafeteria and experienced a bit of campus life.

KASYMBEK Kyzy Cholpon (GSAD, Kyrgyz) who sat in on the discussions, gave his impressions, "Meeting officials from our home country working in similar fields of study and research was a great motivation. Their words of encouragement have further motivated us to study hard, develop our skills and work for the development of our nation."

There are currently 6 students from the Kyrgyz Republic studying in the APU undergraduate and graduate schools (as of May 1, 2009). It is hoped that in the future APU will continue to enrich its ever-increasing range of nationalities represented on our multicultural campus, accept more students from the Kyrgyz Republic, and strengthens our ties with central Asia and the Kyrgyz Republic.