On Tuesday, October 27, 2009, Governor of Oita Prefecture, HIROSE Katsusada; Governor of Fukuoka Prefecture, ASO Wataru; TOTO Ltd. Representative Director and Chairman of the Board, Teruo Kise; Ogiseiko Co. Representative Director Ougi Michinori; and Chairman of the Oita Bank, Yasuchika TAKAHASHI visited APU as part of the Administrative Inspection of the Kyushu Area Governors Meeting and Kyushu Region Strategy Meeting held on Hiji Town, Oita Prefecture.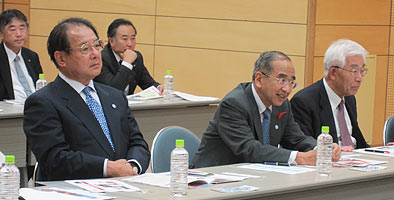 APU Vice-President WAKABAYASHI Hiroo first said a few words of thanks for all the support received so far and gave a brief introduction of the unique features of APU, "We have students at APU from countries and regions from all over the world. There are currently 92 embassies in Japan of which 85 support APU as members of the Advisory Committee. Thanks to embassy support we have been able to accept some wonderful students into APU. We also consider it our mission to make a contribution to the local region and have concluded agreements with 10 of the 18 towns and cities of Oita Prefecture. We also encourage mutual exchange by dispatching students to local primary and intermediate schools." The Vice-President also spoke of the creation of the International Association of Asia Pacific Studies to mark the university's 10th anniversary.

The group also showed a great interest in the Language Learning Community (LLC) language education initiative of AP House in which international and domestic live together in a shared room.

The group asked such questions as, "How do you recruit students from as far away as Africa?" and "What career paths do international students take once they return to their home countries?"

Following the inspection, the group toured the campus, watched APS Professor Joseph PROGLER's English open lecture "Education and Society", and got a taste of the unique APU lecture style.