From Monday, October 5 until Friday, October 16, 2009, eighteen public officials from Colombia, Ecuador and Peru participated in a two-week training course held at APU. The training course was titled "One Village One Product Movement for the Andes Region" and was commissioned to APU by the Japan International Cooperation Agency (JICA).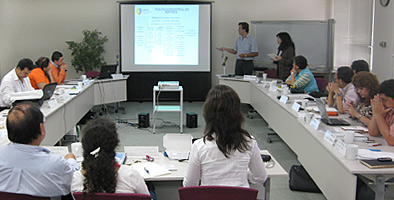 The training consisted of theory and discussions about community capacity development, planning and evaluation, and the "Onpaku Approach." Additionally, trainees attended a lecture at Kokonoe City Hall and took part in zazen meditation and a vegetarian meal program at Zenji (temple of a Buddhist denomination) to experience Hattou Onpaku. The two-week training came to an end on October 16, with a closing ceremony attended by H.E. Mr. Fernando Javier PONCE Leiva, Ambassador of the Republic of Ecuador to Japan.

APS Professor MIYOSHI Koichi, who coordinated the training, shared his thoughts, "To revitalize a region, it is important to improve community capacity while discovering local resources, making good use of them, and taking specific action. By learning the theoretical concepts and repeatedly seeing and discussing real examples, this training aims to combine the theoretical and practical sides of regional development. The conditions of each country may be different, but the trainees are all in a position to decide policy, so I expect that they will implement policies that will raise community capacity, activate the region, and advance regional development."




In March this year, "Andes One Village One Product" seminars were held in Peru and Columbia which jump-started the planning and consideration of specific efforts to develop the One Village One Product Movement under the guidance of the government. Participating in training at APU became part of this effort and program trainees included provincial governors and heads of central government agencies.

Since being commissioned by JICA in 2005, APU has received JICA Training Program trainees from many countries around the world. Oita Prefecture is known internationally as the origin of the One Village One Product movement, and in 2008, APU received trainees from many countries and regions including Africa, Chile, the Philippines and Laos.