On Sunday, December 13, 2009, the Japan Professional Baseball Players Association will host the "World Catch ball Classic in Oita" at APU to promote communication with the community fan base. APU hopes that by jointly hosting the catch ball event as part of 10th anniversary celebrations, the university can contribute to international and community exchange.
The Japan Professional Baseball Players Association considers catch ball to be the very starting point of baseball and since 2005, has been involved in the "Catch ball Project" and has held catch ball events throughout the entire country. Furthermore, the "Yu-ball", which will be used on the day, was designed especially for catch ball and created through the collaboration of the Players Association and the business sector. Many pro baseball players cooperated in the ball's development including Major League baseball player, MATSUZAKA Daisuke who at the time played for Saitama Seibu Lions.

This is a truly rare opportunity to enjoy catch ball with current Oita and Japanese professional baseball players. We hope to see you there!

[APU Access]
On the day of the event, additional buses will be running between JP Beppu Station (west gate) and APU.
We are expecting many people to attend so in the interests of reducing congestion and Co2 emissions, we ask that you make use of these busses.
*In the event that the campus car park reaches capacity, vehicles (private, rented etc) will be unable to enter.

The World Catch Ball Classic in Oita (outline)

Time: Sunday, December 13, 2009 10:30-16:00 (yet to be confirmed)
Venue: The Ritsumeikan Asia Pacific University Campus
(1-1 Jumonjibaru, Beppu, Oita Prefecture)
* Free entry
Requirements for participants:
Of any age, gender or area
* Catch ball participants must bring, or purchase on the day, a "Yu-ball" (the correct baseball for catch-ball use). Gloves are not necessary but participants are welcome to bring along.
* In the interests of safety, there may be entry restrictions.

Event Program (tentative)
Catch ball with professional baseball players
Catch ball skills improvement tournament
Players talk show and event (prior registration required: Please click here for more details on how to apply )
"Lets Play Baseball" corner for preschoolers, etc.

Participating Players:
From Oita Prefecture:
WAKIYA Ryouta (Giants), HIDAKA Ryo (Tokyo Yakult), ANDO Yuya & Ikuro KATSURAGI (Hanshin), HIROSE Jun (Hiroshima), UCHIKAWA Seiichi (Yokohama), TSUCHIYA Teppei (Rakuten), OTSUKA Akira (Chiba LOTTE)
From other Prefectures:
WATANABE Naoto (Rakuten), KAWASAKI Munenori & KIDOKORO Ryouma (Fukuoka SoftBank), MAEDA Yamato (Hanshin)
* Times, event content and participating players are subject to change. The latest information will be updated on the Players Association homepage or the APU homepage.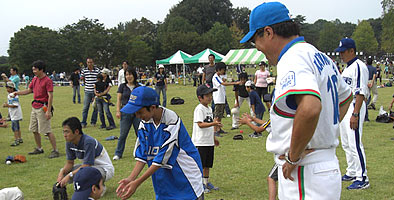 Photo presented by: JAPAN PROFESSIONAL BASEBALL PLAYERS ASSOCIATION