On Friday 8 July, the Ritsumeikan Symphony Orchestra in conjunction with APU students will be holding the Ritsumeikan Symphony Concert at APU Millennium Hall.
This concert will be held in commemoration of the 5th inaugural anniversary of APU and the 50th anniversary of the Ritsumeikan Symphony Orchestra; in addition to paying homage to the tremendous support the people of Oita Prefecture and the residents of Beppu City have given to APU. Furthermore it is hoped that this concert will also further advance interaction and understanding between Rits and APU students.
On the day of the concert the 82 members of the Ritsumeikan Symphony Orchestra and 3 soloists from APU will perform a concerto. Added to this line up will be performances from 10 students selected at the auditions for this concert and the gospel circle Soul (comprising of 11 members). Spotlight interviewed 3 APU students who will be performing and asked them how they felt leading up to the concert.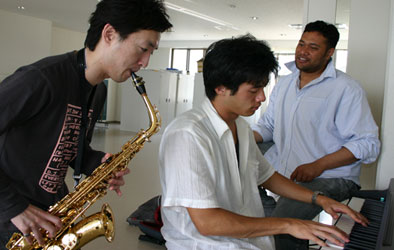 ASANO Taiki (APS 4th year)
Instrument: saxophone
I think this concert will present the opportunity for the audience to listen to music in a chronological fashion from the classics to the modern. This will not only be the first time I will perform with the Ritsumeikan Symphony Orchestra, but also the first time I will be involved in a concert on a scale of this size. I hope that students and members of the local community from all walks of life will warm to this performance. Furthermore I will be most pleased if this concert serves as an inspiration to other circles, and gives birth to the creation of a new culture at APU.
NOMURA Keisuke (APS 4th year)
Instrument: piano
Music is a part of my life which I would like to express in my own way. I think what is important is not how you relate the music but how it comes across. With this thought in mind, and with my motto: "A cool head and a fiery soul", I hope to give it my all at the concert.
FUNAKI Kaituu I Pangai (GSM 2nd year; Kingdom of Tonga)
Tenor
I have held back from graduating in the fall of this year so I can have this last chance to sing at a concert of this magnitude. Also, as a student who has been here since APU's inauguration, it gives me great pleasure to be able to contribute to the 5th inaugural anniversary of APU. I have been involved in student bands in the past but this is the first time I will be performing in an orchestra. I hope my voice will not be drowned out by the multitude of musicians on stage.
The concert will commence at 18:30 (doors open at 18:00). On the following day (Saturday 9 July), in order to further strengthen ties with the local community a special concert: the APU-RU Concert in Kamegawa will also be held. We are eagerly awaiting your attendance at these events.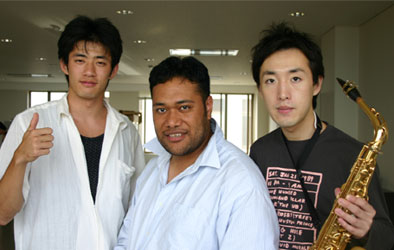 Friday 8 July 2005
Doors open: 18:00
Performance: 18:30
Venue: APU Millennium Hall
Entrance fee: Free
NB: Entrance into Millennium Hall during the concert will not be permitted. Please take your seat early.
Concert
Guest Conductor: NAKAHASHI Kentarozaemon
Student Conductor: KOZUKA Kasani (Ritsumeikan University)
Orchestral Music: Ritsumeikan Symphony Orchestra
Saxophone: ASANO Taiki (APU)
Tenor: FUNAKI Kaituu I Pangai (APU Graduate School)
Piano: NOMURA Keisuke (APU)
Plus an additional 24 student performers
Music
Beethoven Piano Concerto No.3 in C Minor
Glazunov Concerto in E Flat for Saxophone
Amazing Grace
TAKI Rentaro Kojo no Tsuki
Plus other pieces
Saturday 9 July
Performance: 13:00 ~ 14:00
Location: Taiyo no Ie Community Centre Hall (Kamegawa, Beppu City)
Entrance fee: Free