On Saturday, November 14, 2009, the Oita Prefecture Committee for International Student Exchange and University Consortium Oita hosted "Japanese Speech Contest for Exchange Students" was held at the Conparu Hall in Oita City. NGUYEN Thi Thanh Tuyen (APM3, Vietnam), GUNAWAN Magdalena (APM3, Indonesia) and LAUEBOONCHU Patarapon (APM3, Thailand) represented APU. Ms NGUYEN took out the First Place Prize, followed by Ms. GUNAWAN who picked up the Judges Prize.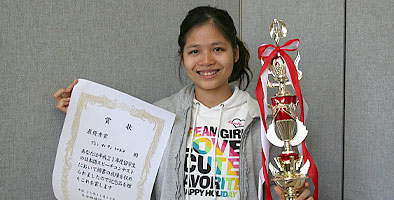 Under the title of "The most delicious food in Japan", winner of the First Place Prize Ms. NGUYEN delivered a heartwarming speech about an episode from her experiences at her part time job soon after arriving in Japan, and her encounter with the store manager.

Ms. NGUYEN began studying Japanese after coming to APU as an international student from Vietnam. She began a part time job in Beppu in her 1st year when she was still not confident in Japanese and was plagued with worries about not being able to blend into her surroundings due to a lack of communication skills. With the aid of a few kind words from the store manager, she soon became able to communicate with the other staff members and before long was getting used to life in Japan. At the end of her speech, she recollected her thoughts at the time, "the most delicious food I have had since coming to Japan is the spring roll the store manager made for me."

Looking back on the contest, Ms. NGUYEN said, "The Japanese skills of all of the contestants was wonderful and I was so surprised when my name was called as the winner of the First Place Price. I practiced over the summer holidays and worked hard on the structure and pronunciation of my speech so I am very happy to have been awarded this prize."

Begun in 1989, this event is held every year and aims to deepen interaction and mutual understanding with local exchange students. This year twelve students studying and local Oita Prefecture universities, colleges and vocational schools took part and delivered speeches about their dreams for the future, interactions with the people of the local community and much more. Many people of the general public attended the contest and were impressed with the Japanese skills of the exchange students.