On Monday, November 30, 2009, Associate Professor HAN Jiho and four APU students delivered a lecture under the title of "The Charms of Oita & Beppu seen from the point of view of foreign young people" as part of the "Dramatic! Kyushu Economy Conference in Oita". Hosted by the Kyushu Economic Research Center*, this conference was held in Oita City.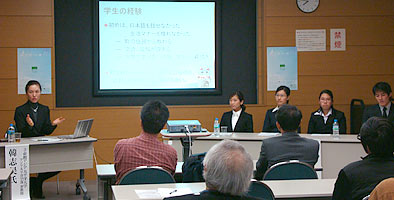 Held to commemorate the 60th anniversary of the establishment of the Kyushu Economic Research Center, the five day conference held a range of events to stimulate thought about the future of the Kyushu and Oita economy such as an exhibition of local business products and Prefectural chronological business performance indicators, and discussion panels looking at tourism and business ventures in a range of business and industry sectors.

During the "Oita Tourism" lecture, Associate Professor HAN first introduced statistics on Japanese and Beppu tourism trends based on her research findings. Following this, four APU students studying regional tourism; Kim Jee Hyun (APS3, Korea), Han Xinyi (APS3, China), VARONGCHAYAKUL Pornrapee (APS3, Thailand) and OSE Kouta (APM3, Japan) spoke of their impressions of Beppu, its points of interest and areas for improvement in terms of tourism. The event was well received by the crowd which included members of the public involved in tourism and APU students and one was left impressed by the levels of interest in Beppu and Beppu tourism.

Mr. OSE, one of the participating students, commented on his impressions of Beppu when he first entered APU, and his experiences at his part time job, "The non-threatening and down-to-earth old ladies of Beppu are a potential tourism resource". Associate Professor HAN then brought the session to a close, "Beppu has wonderful tourism resources. I hope that existing resources are used to their full potential and hope that the local citizens come to take pride in Beppu – a town with such fabulous tourism resources".

A number of questions were raised during the Q&A time including ideas towards the revitalization of Beppu tourism such as a discount system for students and local citizens to introduce friends and family to tourism spots.

Looking back on the event, Mr. OSE commented, "I was very nervous but it was a wonderful opportunity to present my research findings and get some feedback from the local community".

*Established in 1946 through industry-academic-government collaboration, The Kyushu Economic Research Center is an authorized public interest trust and aims to further develop and promote regional economic research and growth, and contribute to the further development of Japanese culture through comprehensive investigative research, lectures, and training sessions related to the economies of Kyushu, Okinawa and Yamaguchi.