On Sunday, December 13, 2009, APU students and web-design and management team members of the Beppu information webpage "BEPPoo!!" made an attempt to break the Guinness World Record for "the most nationalities in a spa at the same time" at YUME MATE BAKO Kannawa hot springs, Beppu City. They missed out on the world record, but beat their previous record of 57 with 73 countries and regions.



This Guinness Record was broken in November last year by BEPPoo!! with 57 countries and regions, but was overtaken by a successful challenge from Finland with 76 countries and regions. The BEPPoo!! challenge this year attempted to re-claim the world crown.

Although students from approximately 80 countries and regions had signed up for the challenge, the 73 participants who arrived crammed like sardines into the sauna in order to meet the "5 minutes in a room with a temperature of over 80 degrees Celsius" certification standards. Unfortunately, they fell 4 nationalities short of the 77 countries and regions needed and missed out on re-claiming the world record but did surpass their pervious record of 57 countries and regions.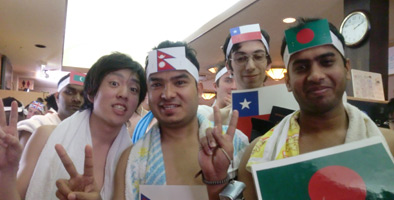 Planning representative of the challenge, KUZUO Mikiko (APM3, Japan) spoke as she looked back on the challenge attempt, "We planned this attempt to re-claim the record set by Finland and we're really disappointed that we missed out. Having said that though, through working with the many international students who helped us gather participants, we did learn the importance of overcoming borders and working together for a common goal".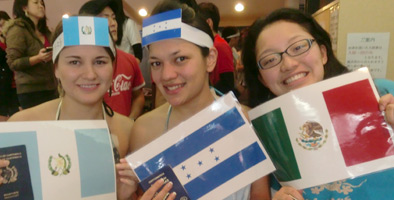 At the conclusion of the Guinness Record attempt, the group moved to the Beppu International Sea Port and held an interaction and exchange event with local Beppu citizens under the title of "Little World in Beppu" at which the participants enjoyed multicultural performances, making rice cakes, hand painting on cloth of a map of the world, and heard a report on the Guinness World Record attempt.

There are currently international students from 97 countries and regions studying at APU which makes up about half of the entire student body. This Guinness Record attempt was an event that truly overcame borders and is fitting of the APU multicultural and multilingual environment.
Reporter, Student Press Assistant (SPA): MAEHARA Hironobu (APS3, Japan)