On Saturday, November 21 and Sunday 22, 2009, approximately fifty students from the Ritsumeikan University College of International Relations (IR) stayed at AP House and exchanged opinions on the topic of the "Future" with the Resident Assistants (RA) and APU students under the theme of cross-cultural understanding.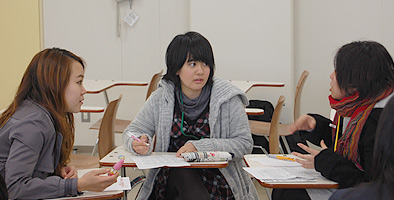 For the IR students this was an opportunity to promote international understanding and exchange between the domestic and international students, and for the APU student, was a chance to promote exchange through learning in collaboration with IR students. Student circles "OASIS", "Student voice", "Ai no Nami" and "Model United Nations" participated in this discussion that was planned and managed by both IR students and RAs.

Furthermore, College of International Relations, International Relations Department Professor ISHIHARA Naoki delivered a special lecture under the theme of "Cross-cultural Understanding in the United Nations" which looked at a range of topics such as the UN and international security, and the importance of international cooperation. During the discussion, the RAs introduced a number of unique APU features such as the role of AP House, multicultural camps held to promote exchange between international and domestic students, and special measures taken at the cafeteria such as the provision of Halal food.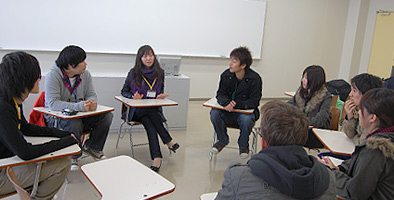 One of the AP House student leaders involved in the management of the program, RIKIMARU Koya (APS2, Japan), spoke of his role as an RA, "The role of an RA is not easy and we make it our priority to ensure that the house residents feel comfortable. However, this is unique to APU and is very meaningful. I believe that living together is a fast-track to cross-cultural understanding. Being able to hear from Ritsumeikan University students about APU has proven to be a great opportunity to reflect on how we promote exchange and interaction between the international and domestic students. I will continue to work towards further interaction between APU students."

Looking back on the event, YAMADA Takako, a 3rd year student Ritsumeikan student leaders and chairman of the Student Council, seemed very satisfied with the program, "This event was very meaningful and like none other that I have experienced before. I felt that it was a great two days for our students to experience internationalisation first hand.

At the time of its inception in 2000, APU aimed to achieve "three 50s" i.e.: 50% international students, 50% international faculty and students from over 50 different countries and regions. These goals were reached almost from the university's first year. APU has succeeded in realizing a multicultural coexisting campus where currently approximately 3300 domestic and approximately 2800 international students from 87 countries and regions come together (as of May 1, 2009). APU students are developing their skills and daily taking on challenges in a range of fields with a wide viewpoint through developing their mind and body and overcoming the boundaries of nationality, culture and race in the unique APU environment.

On the other hand, Ritsumeikan University was adopted into the Ministry of Education, Culture, Sports, Science and Technology (MEXT) "Centre for Globalisation – Global 30 Program". Ritsumeikan University aims to promote further campus internationalisation and greatly increase their number of number of international students by the year 2020.

This program was made possible through Ritsumeikan University extracurricular activities and exchange funds.