教育プログラム|講演・シンポジウム
Dec 21, 2009
On Saturday and Sunday, December 12-13, 2009, the "AY2009 Asia Pacific Conference" was held at the Ritsumeikan Center of Asia Pacific Studies (RCAPS*) in APU. Under the theme of "Reflections on the Asia Pacific-Past, Present, and Future", the conference looked at global issues facing the Asia-Pacific region. The conference was attended by APU students and professors, and top speakers from America, Austria, Japan and The Philippines, including President of Palawan State University (Philippines) SALVA, Teresita L..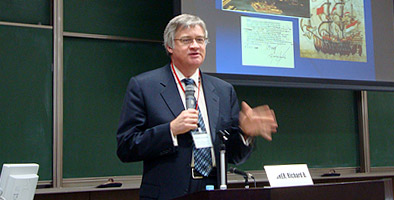 The two day conference was conducted with keynote speeches followed by parallel sessions covering 18 main topics. Opening the proceedings, APU President, Monte CASSIM, spoke of his aspirations for the conference, "Creative solutions are necessary to face the challenges of the future, and I believe that APU with its students from 97 countries and regions, combined with the outcomes of this conference will give birth to the platform of further research on Asia-Pacific studies".

Following this, 2nd Keynote Speaker Dr. DASHER, Richard B. (Director, US-Asia Technology Management Center; Executive Director, Center for Integrated Systems and Consulting Professor, School of Engineering, Stanford University, America) touched on the impact of the global economic crisis, "The current economic downturn has impacted on the globalization of R&D and resulted in a new supply chain to the emerging economies". The conference then broke into parallel sessions delivered by APU and off campus experts under a range of themes such as "Environment & Public Health" and "Societies & Politics".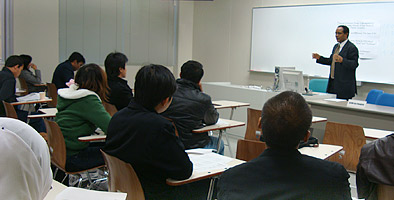 Begun in year 2003, the AP Conference, is an annual event held by RCAPS under the concept of creating "the future shape of the Asia-Pacific region" – one of APU's fundamental principles.

*RCAPS
The Ritsumeikan Center of Asia Pacific Studies (RCAPS) was established in July 1996 with a mission to promote and foster research into the multifaceted developments and challenges that face the Asia Pacific in the 21st Century. RCAPS publishes journals and seminars are held regularly at which lecturers from both on and off campus are invited to share research findings in the field of Asia Pacific Studies.
Reporter, Student Press Assistant, Virgi Agita Sari (APM3, Indonesia)