連携事業|講演・シンポジウム
Dec 22, 2009
On Wednesday, December 2, 2009, the Kyushu Environment Cluster Universities International Network Exchange Meeting – an international exchange event between green companies and students – was held at the APU Convention Hall. Conducted in the form of presentations, discussion panels and an exchange session, the event aimed to promote mutual understanding and build networks between students interested in environmental business.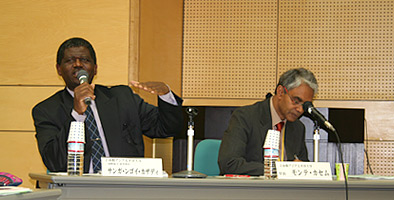 Opening the event, APU President Monte CASSIM gave a keynote speech in which he explained the role APU is taking towards solving the current crisis facing the global environment. Following this, the Presidents and Representatives of four local environmentally friendly companies - Masaki ENVEC Ltd. CO., EcoFactory, Environmental Technoligy Service Co., Ltd. and YBM Co., Ltd.- introduced their companies and described their success in creating environmentally friendly products.

The President of EcoFactory, Mr. MURAKAMI Takanobu, spoke of his inspiration, "my love of my children and concern for their future have inspired me to contribute to the shaping of a better environment, and this was my motivation behind the creation of our environmentally friendly product, the 'ECOWIN" – a hybrid thermo system cooler/heater."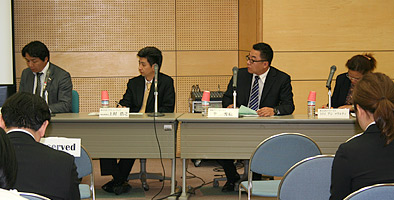 Following a lively discussion panel moderated by Professor SANGA-NGOIE Kazadi, APU Dean of International Cooperation & Research, the panelists, faculty members, and participants enjoyed a chat with each other over a light meal.

Started in 2008, the Kyushu Environment Cluster Universities International Network Exchange Meeting is held at APU with the cooperation of the Kyushu Block Environment & Recycling Industry Exchange Plaza (K-RIPS) and the Kyushu Industrial Center.

Reporter, Student Press Assistant, Virgi Agita Sari (APM3, Indonesia)